Plastic Mastery
In the Fall of Unearthly Angels (Magic Marker Records)
By: Alex Steininger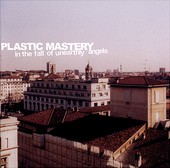 Loose, lo-fi, jangle-y indie-rock brought up on power-pop, with a twist of emo-rock to bring out all the tones of the music. Plastic Mastery's In the Fall of Unearthly Angels is an infectious, bouncy, and fun record that will put a smile on your face and make you want to sing along. The short, punchy songs, ranging from slow to lightening fast, come and go, the majority in under two minutes, leaving you with a feeling of "what just hit me?" before the next one comes along and consumes your mind.

The songs are precise and too the point, never losing you, keeping on course from start to finish, delivering thirteen songs in under thirty minutes, making you feel fulfilled, but also urging you to hit the repeat button and go at it again. And that's the mark of a good record, one you want to listen to right after you just heard it. I'll give it a B.