Tobin Sprout
Lost Planets & Phantom Voices (Luna Music)
By: Alex Steininger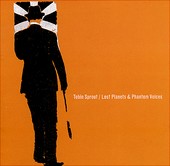 Best known as Robert Pollard's less prolific sidekick in indie rock legends Guided By Voices, Tobin Sprout left GBV in 1997 to pursue a solo career. Launching it with 1996's Carnival Boy (Matador) and following that up with three more full-lengths in a six year period, Sprout recently released his fifth solo album, Lost Planets & Phantom Voices, on Luna Music.

More fleshed out than Guided By Voices' lo-fi approach, Sprout goes for the middle, creating semi-lush, vibrant pop songs that still hold true to the lo-fi mind frame. Maybe best described as mid-fi, the songs on Lost Planets & Phantom Voices are nearly perfect pop nuggets, bouncing from hook to hook, engaging you with more than something to listen to, and ultimately getting you singing along after a few listens.

It's laid back enough to not bombard you with the hooks or shove the melodies down your throat, but is coy enough to make you take notice and not forget what is going on.

Smooth, rich, and oft dreamy, the warm soundscapes are laced with soul, yet another reason to lay down and let the pop take control. I'll give it a B+.