Zwan
Mary Star Of The Sea w/bonus DVD (Reprise Records)
By: Alex Steininger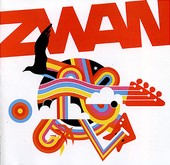 Following the demise of The Smashing Pumpkins, front man Billy Corgan, along with drummer Jimmy Chamberlin, formed Zwan. Mary Star Of The Sea, their debut, is a record worthy of The Smashing Pumpkins moniker. However, with the new name, Zwan, Corgan and band deliver material reminiscent of early-to-mid Smashing Pumpkins, sprinkling in softer acoustic songs that too wouldn't be out of place on a Pumpkins record, if only the latter discs.

For those that were disappointed when The Smashing Pumpkins called it quits, Zwan will perk you up, as Corgan neither heads in a new direction nor tries to avoid the sound that made him a celebrity figure.

From the hook-laden, guitar-driven, crunchy rock song "Honestly" (a surefire hit), through the melodic pop of "El Sol", and the acoustic melancholy of "Of A Broken Heart". Corgan's lyrical ability is in fine form, his emotive, high-pitched voice soaring above the songs and yanking at your heartstrings the same way it did with The Pumpkins. The pain, the yearning, and the struggling coming out of his voice with ease, while resolution and salvation is met through the music.

Corgan's songs still are strong. They still touch you. And they still move you. Whether he's wailing a straight ahead guitar-rock song, playing a tender pop song, or being reflective with his acoustic guitar, he always has your attention and speaks to you, his songs universal as you latch on to them and feel as if he's singing to you.

Coupled with a bonus DVD that shows you the band in the studio and the band on stage, Mary Star Of The Sea eases the pain the demise of The Smashing Pumpkins left, and reassures you that Corgan is still forging ahead, without losing any momentum. I'll give it a B+.

Hear Zwan at: http://www.bandbuilder.com/zwan/index.php?ref_code=D14826.