David Holmes - Presents the Free Association & 13 Amp
Analyze That - Original Soundtrack [music by David Holmes] (TVT Records)
By: Mark Sullivan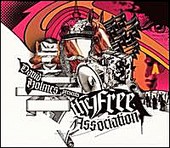 I must admit that I felt a bit let down after my first listen to David Holmes Presents the Free Association. Holmes had actually introduced the Free Association a year before. At that time, the "band" (?) was Holmes and programmer Steve Hilton. They crafted instrumentals between the tracks on his mix CD, "Come Get It I Got It." It doesn't belittle his original work to say that Holmes is probably at his best when DJing.

His earlier Essential Mix 98/01 is an eclectic classic. Holmes does not believe in simply compiling the latest hits. Most of the obscure but great songs he spins were never hits. Even when he includes big names, as he does on "Come Get It I Got It", he digs a bit deeper for rarely heard tracks by Johnny Otis and the Staple Singers. His Muddy Waters track was from his '60s psychedelic album, Electric Mud. The mix leans heavily on late '60s and early '70s psychedelic swamp rock, lots of funky organ and Hendrix-styled guitar, but always in service of the groove. The Free Association tracks were in a similar vein, frosting between the layers.

Their new full-length album, Presents the Free Association, features those same psychedelic sounds. While "Paper Underwear" may bear some resemblance to the pop psychedelia of John Fred & the Playboy Band's "Judy in Disguise," most of these tracks are earthier, funky, jazzy. To further that shift, Holmes has added two vocalists: MC Sean Reverson raps and Petra Jean Phillipson emotes in a jazz style.

At first I was disappointed that the singing was not loose and bluesy, as on most of the earlier CD. However, I listened again and gave the album a chance to be what it was. Soon I was listening to it over and over. The vocals are actually right in keeping with the late '60s sound. Reverson does not so much rap as signify, very rhythmic, but not choppy, drawing more in style, though not politics, from proto-rappers like Gil Scott-Heron and the Last Poets than from the rappers who followed them. The style is a logical extension of Holmes's updating of "Compared to What" on Bow Down to the Exit Sign (long before Mya and Common did the same in the recent Coke ad). Phillipson is even jazzier. Her vocals evoke Verve vocalists like Billy Holiday and Nina Simone. In a weird paradox, Holmes's retro settings sound far more contemporary than the official attempt to update that label's sound on "Verve//Remixed." These vocals are fully integrated with the gritty funk of the music instead of just having contemporary beats grafted onto them. Good music transcends trends.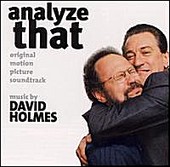 Neither of the Free Association discs has been released in the States, though. We only seem to get Holmes's soundtrack albums over here, the latest of which is Analyze That.
Fortunately, the dialogue snippets that marred the CD soundtracks of Out of Sight and Ocean's Eleven have been dropped. They may have been mildly interesting once or twice, but they quickly became annoying -- don't you hate people talking over music you want to hear, even if it is George Clooney or Brad Pitt? Those previous CDs were also filled out with other songs played in the movie. This soundtrack is completely Holmes's work. And there's not nearly enough of it. Holmes wrote exactly what was needed for the film and no more. The entire CD clocks in at just over 30 minutes. "Guard Shoots Vitti" lasts a whole 42 seconds. From the titles to the length of tracks, the music is purely functional. And that's a damn shame because what there is of the music is very, very good. Holmes has the good sense to build around Scott Kinsey's organ. Kinsey sounds a lot like Joe Zawinul, both with Miles Davis and his own Weather Report. This is jazz-funk fusion from a time before fusion, usually rightly, became a term of dismissal. The disc is ultimately a tease, though. It offers just enough to make you want to hear a whole lot more, the whole song, not just a snippet. Presents: A-/Analyze That: B-