SHOW REVIEW: Ministry, Lollipop Lust Kill, Motograter, Nothingface
March 19, 2003 @ Roseland (Portland, OR)
By: Sonya Brown
By: Jett Black
Photos By: Roger Podva, Circle 23 Photography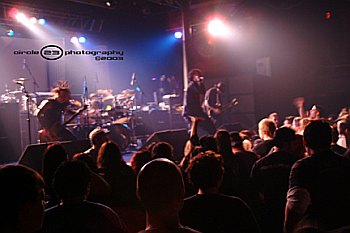 "VOTE THAT FUCKER OUT OF OFFICE!"

And so commands the lead singer of Nothingface to an audience cloistered inside the Roseland Ballroom on March 19th, 2003. He informs us that we are now at war, and then urges everyone in the audience over the age of 18 to register to vote. It felt like another world. People cheer this political monologue, and then, the music resumes. We leave the main stage area and walk into the adult bar downstairs, where three wall-mounted television sets provide visual entertainment for smokers and other guests who just need a bit of time away from the mosh pits upstairs. Two of the idiot boxes feature the live performances happening upstairs, and the other TV set (no volume) displays bombs dropping on Iraq. Surreal... but I'm getting ahead of myself here.

Jett Black and myself were invited to The Roseland this evening to interview Lollipop Lust Kill. I was quite impressed with their latest release My So Called Knife, so I jumped at the chance to finally meet up with them face-to-face. Of course, having the opportunity to see Ministry perform live was also very cool.

LLK guitarist, Pill, greeted us at the back gates to The Roseland. Apparently, it was sound-check time, so we waited around, watching the commotion. The Roseland is a very different place without hundreds of people milling about, spilling drinks, and babbling incoherently. Again, I use the word "surreal" with the house lights illuminating a sparsely populated arena. It felt rather macabre as we stood patiently in the dimly lit extremes. Music gear of every description completely filled the main floor where the audience would be standing in less than an hour.

Security was extremely tight at The Roseland. Accompanied by Roger Podva of Circle 23 photography, Jett and I had to jump through many hoops and argue with security over silly things like tape recorders, and silver marking pens. Once we finally got through "customs", and made our way backstage, escorted by Pill, we could at last make use of the tape recorder by interviewing Lollipop Lust Kill. We managed to regain the silver sharpie in order to get precious collectibles signed.

Backstage, I felt a bit like the lady reporter in the mens locker room. You know, lots of half-naked sweaty guys running about being, well... "boys". Motograter, first to take the stage upstairs, were busy painting themselves with buckets of black and white paint (and it looked WAY cool!) while we sat down to chat with Pill (LLK guitarist), and D Human (LLK bassist).

First, we talk about the trademark funeral suits worn by LLK bandmates (yes, they are "retro", and, according to Pill, quite "smelly"), and then, we are introduced to the LLK lineup:

Evvy Pedder, vocals
Pill, guitars
DeadGreg, guitars
D. Human, bass
Knits, drums
Killer K, keyboards, samples
LLK are "the boys next door... until one of us commits a crime", and I do believe that if it weren't for the creative outlet of LLK, that "crime-committing" might have become the next best alternative!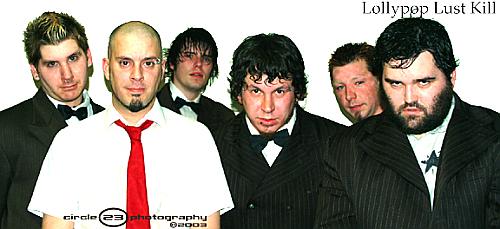 As Roger prepares to photograph the band, Jett & I head back to the car to unload the illegal "contraband" of tape recorders and silver marking pens, then we rush back upstairs to catch the rest of the concert. Apparently, during this time we missed Motorgrater (and their sexy painted bodies), but judging from their energy backstage, we expect that will have more opportunities to check them out again sometime.

We slurp a couple of Portland microbrews, and then head on upstairs, and saunter as close to the foot of the stage as we can manage, with hopes to see Lollipop Lust Kill in action. The Wizard of Oz "Lollipop Guild" song resounds through the hall (as though broadcast through a loud speaker at a State Fair, or carnival) to introduce LLK as the band takes the stage. And, first of all, I must say that LLK boasts one of the most animated keyboardists I have ever seen! Killer K churned out notes with his keyboard tilted 90 degrees during most of the songs! I can't help but think of Lurch, for some inexplicable reason. DeadGreg, LLK guitarist, needed no microphone to get into the music, and into the audience. DeadGreg demonstrates, in the post-performance lobby, that he appreciates the fans as much as they enjoy LLK. Fantastic! Vocalist Evvy Pedder belted out all my faves from "My So Called Knife", including "Father"; and my favorite, an LLK version of Depeche Mode's "Personal Jesus". Just imagine a death-punk metal band covering a Depeche Mode song... Yea' kinda' like that! It kicked serious ass. Evvy Pedder grabs his crotch as his bawdy voice wrenches forth the words, "reach out and touch faith!" AWESOME! This was what I have been waiting for since I first heard "My So Called Knife". Lollipop Lust Kill closes with "Knee Deep In The Dead", which is also their tribute to the video game, "DOOM".

We managed to survive on the floor, near the stage, for about 3 songs before more rather aggressive, and violent personality types began smashing into us (and I'm far too short & girly to fend off large guys running full-speed into each other), so we made our way to the side of the venue. This would be our vantage point for the rest of the evening, as the crowd became more, and more frenzied as the night progressed.

Nothingface took the stage next, and I do believe this is where I came in at the beginning of the article! Jett & I sat in the lobby jotting down notes, visiting with Roger and our friend, Wa of Dead Poets Society, when we spotted two adolescent girls wearing white tanks and flip-flop shoes (ouch!). They were standing with what appeared to be their dad, or older brother perhaps, when Lollipop Lust Kill came into the room. The girls asked to have their shirts signed, and the entire band signed both of their white tanks. These girls were FANS, who obviously came to the show just to see LLK! It was so cool to see the entire band gathered around making these girls feel incredibly special. That is something these girls will never forget, and as they passed us on their way out I heard them say of the band "they are so nice!" Ahhh... boys next door, perhaps??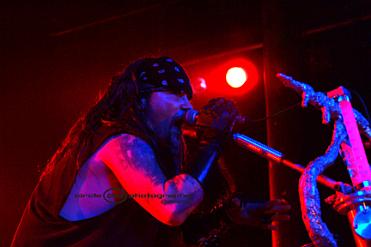 And, now Ministry takes the stage. I have been a fan of Ministry for many years, but really what I wanted to hear most was "Jesus Built My Hot Rod". Al Jorgenson took his position on stage, behind a unique sculpture resembling large silver handlebars to perhaps a motorbike. He looked like Satan bursting forth from hell on a grand, silver chopper! Vocals distorted for effect made deciphering lyrics too much of a chore to actually take in other details of the performance. Perhaps this is because Ministry is on tour promoting their new album, Animositisomina. However, we do not have that album yet. And, while having the opportunity to see Ministry was certainly a dream come true, we were both exhausted.
So while I was watching Ministry, my thoughts were focused more upon those cute little girls having their tank tops signed by Lollipop Lust Kill band mates, and how cool that must be for any music fan. I thought about the energy of Motorgrater as they painted their bodies backstage. I thought about the awesome performance delivered by Lollipop Lust Kill. I thought about the war. And then, I just wanted to go home.
You know, I never did find out if Ministry played "Jesus Built My Hot Rod". Surreal.