Califone
Quicksand/Cradlesnakes (Thrilljockey)
By: Alex Steininger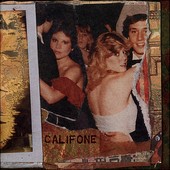 On their second full-length (forth if you count the limited edition Deceleration One and the band's first two EPs combined into one record, Sometimes Good Weather Follows Bad People), Califone deliver a melodic, dark experiment known as Quicksand/Cradlesnakes.

The product of ex. Red Red Meat member Tim Rutili, Califone also features another Red Red Meat alum, Ben Massarella. Plus, a revolving cast of musicians; all of who help to flesh out the songs, making Califone come alive in the studio.

Quicksand/Cradlesnakes delivers passionate, dark blues-rock with an indie rock design, as songs like "Your Golden Ass", with its subdued, blues-y stomp, the psychedelic mood-blues of "When Leon Spinx Moved Into Town", and the seven-minute long "Horoscopic Amputation Honey" all attest to.

Then a number like "Vampiring Again" comes along and changes your perspective of what Califone is about, and what they can do. A sweeping, late-night, walking-home-in-the-rain indie-pop song, the bellowing lo-fi sounds snuggle with the fuzzy indie-rock, the outcome a drizzling, wet, but forget-the-umbrella experience that leaves you somewhat emotionally cleansed and refreshed. The tears have dried and the pain, though still there, doesn't throb anymore.

The band makes the loosely fitting indie-rock tag their own, testing labels and boundaries at every turn as they quickly hop around, re-developing, and refining, as well as redefining, themselves constantly. I'll give this an A-.