Earlimart
Everyone Down Here (Palm Pictures)
By: Alex Steininger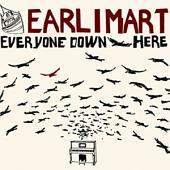 Los Angeles-based indie-rock outfit Earlimart's follow-up to their Palm Pictures debut, The Avenues EP, Everyone Down Here finds the band continuing to develop their folk-inspired, post-punk branded style of indie-rock.

Mid-tempo and melodic, the songs call to you, at one moment asking you to sit back and indulge in fuzzy guitars and languorous vocals, the next sweeping you off your feet with sparkling female vocals that follow plaintive male vocals. The melodies assume the same front; at one minute leaving you alone as they slowly flow like molasses. And then they engage you with a sharp, but innocuous hook.

"We Drink On the Job" is a prime example of the band's fuzzy, guitar-led, backing vocal rich indie-rock flavor. While "Burning The Cow" finds the band picking up the pace a bit and delivering an even more rocking number, awash with plenty of fuzz and front man Aaron Espinoza's sturdy, but timid voice.

Co-produced by Grandaddy's Jason Lytle, songs like the acoustic "Lazy Feet 23" and the piano-pop of "Dreaming Of..." stand up beautifully next to the rock songs, their orchestrated pop mastery and finely crafted melodies complimenting, and furthering the vitality, and essence of the songs.

This is a wonderfully rich, more than capable rock record that knows it knows how to rock out, so it has a good time delivering melancholic pop songs in addition to the fuzzy guitars - both of which this album is filled with. I'll give it an A.

Hear Earlimart here: http://www.earlimartmusic.com/music/Earlimart-Susans_Husbands_Gunshop.mp3.