Party of One - Shotgun Funeral
Giddy Motors -- Magmanic (FatCat)
By: Cam Lindsay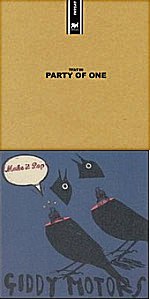 Two new and very different signings to the elegant ambient label FatCat, Party Of One and Giddy Motors each bring their own brand of energetic punk to the roster. Minnesota's Party Of One aim for a melodic-based pop sound with their two offerings. The lead track, "Shotgun Funeral" is an enjoyable, burst of dirty and muffled angular. Reminiscent of early Sub Pop bands, its timing couldn't be any more perfect. B-side "Jenga" is a little more lo-key, opting for a simple, tinny acoustic sound. A nice taster of the forthcoming album, Caught The Blast.

Giddy Motors on the other hand put forward a Steve Albini-produced noiseathon. Heavy on the Shellac bass, and filled with wailing guitars, "Magmanic", a single taken from their album Make It Pop, is brazenly noisy and filled with some unexpected twists. The Albini influence is pretty noticeable, but the hero worship is kept to a healthy minimum. B+ for both.