The Postal Service
Give Up (Sub Pop)
By: Alex Steininger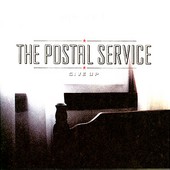 A pairing of Jimmy Tamborello (Dntel and Figurine) and Ben Gibbard (Death Cab for Cutie), who first worked together on the title track to Dntel's This is the Dream of Evan and Chan EP. The Postal Service (named after the duo's method of trading tapes and music) exceed all expectations on their debut, Give Up.

The songs on Give Up are comprised of music Tamborello would send Gibbard, electronic beats and melodies, to which Gibbard added guitars and vocals. The result is a fragile, but poppy version of Death Cab for Cutie - should they incorporate electronics into their routine.

It is hard for Death Cab not to be referenced in sound, not only because Gibbard is the brainchild, but also because his voice is what makes Death Cab, and The Postal Service draw on the same energy.

The opening cut, "The District Sleeps Alone Tonight", its tender pop and upbeat electronics, backed by the vocals of Rilo Kiley's Jenny Lewis, gives you a great taste of what Give Up is all about, soothing, serene melodies and biting, aching lyrics.

The first single, "Such Great Heights" follows up "The District Sleeps Alone Tonight", and it too is a great indication of what to expect from the other eight tracks on the record. A bit bouncier and more rockin' than the opener, you can't help bug feel this could make a Death Cab record if reworked ever so slightly.

The album's finest moment, "Sleeping In", paints a picture of an ideal world. A world where everything is exactly as it seems, its optimistic depiction of such a world is quite peaceful, the chorus, "don't wake me, I plan on sleeping in", echoing in your mind as you wrap yourself in the song and feed off its comfort.

"Recycled Air" lays on the electronics, while "Clark Gable" centers more on Gibbard's pop sensibilities. "We Will Become Silhouettes" is another stand out track; with otherwise dreary sounds brought to life by Gibbard's voice and Jenny Lewis' graceful back-up.

For two musicians, both busy with their own projects, trading tapes through the mail, Give Up is surprisingly good, if not great. Delivering the best of both their worlds, Tamborello and Gibbard make a darling record that, at times, overshadows their individual work. I'll give it an A-.