The Yardbirds
Birdland (Favored Nations)
By: Alex Steininger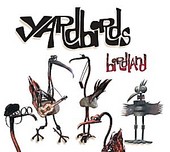 With former Yardbirds guitarist Jeff Beck making an appearance on "My Blind Life" (mixing the song as well). And other notable guests including: Queen's Brian May, Guns and Roses' Slash, Steve Vai, Joe Satriani, Steely Dan/Doobie Brothers' session player Jeff "Skunk" Baxter, and the Goo Goo Dolls' John Rzeznik. The Yardbirds' first studio album in 35 years, Birdland, has the pedigree (and history) of a hit record.

However, you also need to take into consideration the lack of the band's three biggest stars, guitarists Jeff Beck (his guest appearance on one track a mere blip in the album's fifteen tracks), Jimmy Page, and Eric Clapton. All of who went on to international success, of course.

Only two original members (sans the guest appearance from Beck, of course) appear on Birdland, drummer Jim McCarty and rhythm guitarist Chris Dreja, with the other instruments played by three new members, including lead vocals, which are handled by bassist/vocalist John Idan.

Through Idan, McCarty and Dreja attempt to recreate the Yardbird's heyday glory, with Idan's singing style sounding remotely close to Keith Relf, the band's vocalist, who died in 1976. But with the Goo Goo Dolls' John Rzeznik singing lead on the band's biggest hit, "For Your Love", Birdland comes off as a great tribute album to the Yardbirds more so than a new recording from the legendary psychedelic, pioneering rock outfit.

Reunion albums in general are hard to pull off, especially energetic albums from bands that dominated the 60's and whose music still lives in many to this day. So it is weird to hear many of the classics reinterpreted, especially alongside the newly penned cuts which, miraculously, somehow muster up enough juice and vitality to sit next to the classics and fair their own.

Still, Birdland, assuming the Yardbirds name, opens itself up to criticism and reject, despite its highly engaging, energetic, and fresh sounding remakes of the band's historic numbers. Coupled with McCarty and Dreja's originals, which serve as a tool to remind people this is a new album and not a tribute album, something is lost.

If only they stuck with all originals, we may have had something solid, though not as good as any Yardbirds' record featuring Relf and company. That's not to say this is solid, because it is. It just sounds wishy-washy, at one moment wanting to be a tribute album, with Idan paying tribute to Relf, and the next minute craving to be taken seriously as an actual Yardbirds record.

Fans of the band will appreciate and groove to the near spot on rock sound McCarty and Dreja have kept alive thirty five years later, and sing along with the newly recorded versions of their favorites. Others not so familiar with the band will want to start at the beginning or the middle, certainly not here. I'll give it a B.