Tricky
Vulnerable (Anti Records)
By: Alex Steininger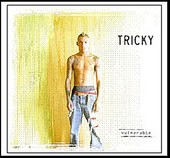 Following up 2001's BlowBack, his post-Island Records, Hollywood Records debut, Tricky's venture into the world of indie labels (Epitaph subsidiary Anti Records) is not only his best piece of work to date, it is also his most Vulnerable record.

Vulnerable, his sixth full-length to date, finds an older and wiser Tricky fighting the tags he's been labeled with, such as "The Dark Prince", as he comes out of his shell, exposing more of himself, through his music, than he has ever done on a past release.

Still capturing the dark essence that fans love, he explores a rainbow of emotions and feelings as he creates a groove-laden, sonic textures that make your body shake and tremble, both with fear and excitement. An exhilarating, timeless exploration of time and the passing of time, Vulnerable inevitably not only opens up Tricky, but opens up your mind as well. It leaves room for you to explore yourself as the music thumps and booms, your hands shaking, and your mind wandering into an adventurous world of unanswered questions and self-realization. I'll give it an A-.