Canada Calling! With Your Host, Bruce "e-Mole" Mowat
This Month's Topic: Canada's finest 74 minutes (Conflict of Interest ahoy!)
By: B.F. "Mole" Mowat



Yes, I'm baaack, and doing what I do best: hyping myself.

(oops, sorry ..thought I was Gary "Pig" Gold there for a minute).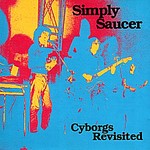 Believe it, though, when I say the single greatest rock recording to ever come out of the Great White North was, and now is, Simply Saucer's Cyborgs Revisited, which hits your streets on May 20th via Sonic Unyon, distributed in the U.S. by Allegro/NAIL.
For those of you unfamiliar with the Saucer, here's a quick primer. In the Hamilton, Ontario group's first incarnation, (1974-1976) Saucer was a prepotent mix of Stooges n'Velvet styled garage oomph, combined with a thorough schooling in UK psychedelia (see Syd Barrett's Pink Floyd & early Soft Machine) and topped off with synth sounds derived from avant-jazz'er Sun Ra & such Teutonic knob-twirlers as the Can, Faust, Neu, etc...
If those references elude you, just imagine a band that rocked like 10 men, but in a decidedly sidereal fashion, aided by extra-terrestrial looking appendages.
This record was, and is, very dear to me. If I could put the essence of my being onto CD format, it would sound something like this. The studio tracks, done at Bob & Dan Lanois' Ancaster, Ontario basement studio, (a few blocks away from where I lived as a child) jerk n'jolt around like charged-up electrons caught in a drum cage. Those Yardbird rave-ups never died, they just moved across the pond and headed north. Mole Machine has been accurately described as the sound of the author's brain at work. Nazi Apocalypse foreshadows the punk era's obsession with all the Reich things, but without the lame perpetrator identification.
The live tracks, recorded a year later, feature a very tightly wound and explosive live unit. The excerpt of Here Come The Cyborgs simmers and burns, Dance the Mutation pulsates, and Illegal Bodies takes the Sister Ray riff and shoots it full of meth. The best part occurs when Edgar hits his pedal effects after Kevin Christoff does a very tasty bass solo. You hear the echoed click...click..click (a lot of brick went into making the top of Lloyd D Jackson Square a natural echo chamber) and then Edgar blows up the entire universe. "Beautiful" as Pat Fusaro would say.
This era of the SS was featured on the original vinyl Cyborgs LP, released on my very own wee Mole Record label back in 1989. Those 920 copies went fast, and we got a lot of great press: Best Canadian Record ever! - Alternative Press. Ecstatic Underground Bliss!" - NME. "So good, I buttered my head and made a sandwich out of it" - Brian Wilson! One thing led to another, and the record was re-issued on compact disc in 1991 by Fistpuppet/Cargo, which went under a few years later.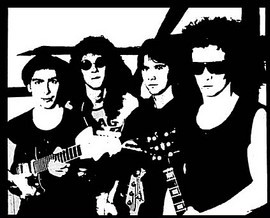 Mach Two of the SS (1977-1979) though, was a different sort of fish. Original members Edgar Breau (guitars, vocals) and bassist Kevin Christoff still had the VU/Stooges garage-rock impulses, but this time around, the group was putting a dual-guitar engine into song structures informed by the Kinks, The Pretty Things, John Lee Hooker et al. The results got them lumped in with the nascent Toronto punk scene, something they were never comfortable with. Guitarist Alex Pollington didn't last beyond the end of 1977, and was replaced by ex- Teenage Head (and ex-Loved One) Steve "Sparky" Park.
Their 1978 Pig era 45"She's A Dog/I Can Change My Mind", while fun, fun, fun n' all represented the poppiest aspects of the group. The bonus material included on the Unyon re-ish, however, should give people a clearer idea of what this era of the group was "about". Be forewarned though, this material comes in two flavours: raw (live rehearsals recorded off-the board to cassette) and rawer (hand-held cassette recorder using Canadian Tire duct tape). Not for audiofools, er philes.
The bulk of it is taken from a copyright tape made on Oct.16th, 1977 featuring the soon-to-be booted Pollington, and it rocks. "Low Profile" could be slotted in on the Kinks' Lola Vs Powerman or on Television's Marquee Moon LPs and it would still be a stand out track. Yes, it's that good.
Nothing terribly complicated about Little Sally and Get My Thrills: they just rawk, okay?
Thrills (Get My Pills) features a modified John Lee Hooker hypno-riff that gets a "booster" in the middle bit. It's like The Saucer one-upped the Velvets by figuring out that outfits writing m.o and raised the ante on 'em. I Take It is what you'd call a great beat ballad. There's nothing sucky about it, and plenty of 'tude.
The Live 1978 material is rough, but revealing. Yes I Do, for instance, is another fab beat ballad, and while Edgar misses some notes, the song performance hits home. Another Great Moment in Bass here, courtesy of Kevin Christoff ("Close friends get to call him KC/Providing it's with with dignity") The live version of Bullet Proof Nothing reveals : 1) new lyrics had been added since 1974 and 2) the "mystery breaks" of the original version were in fact, the spots where Edgar was SUPPOSED to put in overdubs, but ran out of recording time. Now's the Time for the Party is a creepy number worthy of Uncle Lou's top drawer. It is a number beloved of Mike Trebilcock of the Killjoys and word has it that he is committing his own version of it to disc soon.
The Pig 45, entioned a couple of issues back, makes it debut appearance on the Compact Disc format, and you can actually hear Kevin Christoff's bass lines! Glory be!
Next month, I will write nice things about Toronto's The Raving Mojos. That is, if they ever get their US distribution worked out. Hup! Hup!
Send stuff to me c/o Creative Radio, #3, 431 Barton Street East, Hamilton, Ontario, Canada L8L 2Y5.