INTERVIEW: Soulfly
Soulfly's Max Cavalera Discusses New Album, Tour (Roadrunner Records)
By: Jett Black and Norman Cox
Photos By: Roger Podva @ Circle 23 Photography


David Bowie, Peter Gabriel, Sting, Aerosmith, Robert Plant, Slayer, Motorhead, In Flames, Sworn Enemy, so many artists on many previous Ozzfest tours, and countless others can claim to have shared a stage or recorded a song with Max Cavalera. This may mean something to many readers. And yet, these details do not even scratch the surface of accomplishments listed in the Max Cavalera/Soulfly press kit, well over 2 dozen pages thick.

We can only share with you that which we have discovered recently in the briefest of observations and during a most generous interview (inside the Soulfly tour bus) which Max Cavalera granted to Norman Cox and to myself, Jett Black.

SOULFLY becomes these words: "The whole is greater than its component parts."

Max Cavalera, his wife Gloria, and their five children are often referred to as the Cavalera/Soulfly Tribe, and Soulfly is also recognized by many musicians and fans as having a tribe contributing to the overall success of the band. The more I discover about SOULFLY, the more I admire what Max and "the tribe" actually manage to accomplish through all of their endeavours. Max, a native of Brazil, champions the attitude that it is best to remember what it means to live in a remote location where the big bands that you want to see may never condescend to visit and perform.

"If I ever make it in the business' I am never going to forget that those bands came to Brazil!" says Max Cavalera.

Soulfly takes to the skies and the roadways like it is still a big adventure, as though this might again become the very first time to travel far and greet so many new faces of fans waiting to greet an internationally known music recording artist. One could only hope to someday be as "down-to-earth" as Max Cavalera obviously is today during the course of this most hospital and generous interview in the back of the SOULFLY tour bus.

Like so many other musicians that I have recently come to admire more and more for their sincerity and forth-right desire to unleash the muse from the music to LIVE audiences everywhere, Max chooses to take the stage completely sober. Max solemnly regrets the things he can't change about the past... like being too wasted-drunk 10 - 20 years ago to remember any details associated with people and places he is otherwise known to have experienced.

These days, Max Cavalera is 100% live on stage and truly in the moment unleashing his unique brand of World-Metal that he himself is credited with having brought into the world of modern music.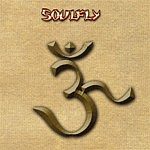 Norman: I like all the tribal stuff you've been doing with the new album. I received a sampler from Road Runner a while back that includes "Back to the Primitive".
Max: We will play that song tonight. We've got 3 Soulfly albums, a shit-load of Sepultura, and Nailbomb. We squeeze a lot of songs into one hour and 20 minutes.
Norman: How are things between you and your brother?
Max: It's cool.
Norman: What guitars do you endorse when performing on tour?
Max: To play live, I play ESP. They are a really good company for me, and they take care of me. I've got my own line of guitars with the Brazillian flag. And it's nice to work with a company that the people in the company are cool, you know, fans of the music, and so it is not SO corporate. I was with Gibson for a year, and I did not enjoy it very much because it was so very corporate. When I would call to order a guitar, they would come back with, "Oh, yeah? How many records have you sold?" What does that have anything to do with me ordering a guitar? So, I left Gibson.
Norman: Didn't you used to play B.C. Rich?
Max: I play B.C. Rich first, and then I was in Gibson for a year, and now I have been with ESP, and this is my favorite company, ESP. I like them very much. I like the quality of their guitars. I like the people who work there. And I believe that they are a really good company. I know that Metallica guys, and Deftones are on with ESP.
Norman: The guys from IN FLAMES also use ESP.
Max: They make good guitars. I like them a lot. I don't think I would change. I believe that I will stay with ESP. You know, Gibson is a great guitar, but I had a bad experience with the people. They are really into corporate shit. Only the money and record sales. ESP never asked me how many records I sold. They like me for who I am, the artist.
Jett: What can you tell us about the opening bands (Sworn Enemy and E-Town Concrete) touring with Soulfly this Spring?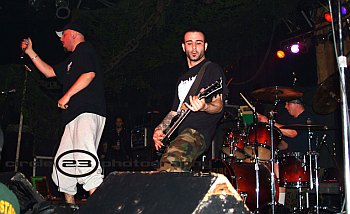 Max: Sworn Enemy is more hardcore, kind of HATE BREED style, and actually Jamie from HATE BREED produced their record. And E-Town Concrete is more along the lines of Rap-Metal. I have their cd, and they're good. Both of these young bands are pretty good.
Jett: Do you choose the opening bands yourself? And What factors influence your decisions in whom to bring on tour with Soulfly?
Max: Music. The music has to be good. Most of the time, I like to take a band that hasn't tour much, yet, and give them a chance. Unless it is a package deal like we did back in the Sepultura days with FEAR FACTORY, SICK OF IT ALL, NAPALM DEATH... if we're not doing a package deal, then I prefer to bring on a band that nobody knows much about and that way, this gives them a chance at exposure. In Europe, we may tour 21 countries and in each country, there's an opener from within the local city, usually friends of the promoter. On the last European tour, there were at least three bands that I totally dig. I got their cds, and I keep in touch with them. They're each bad-ass. And they're complete unknowns. Nobody knows about any of those guys. So, next time we go back to Europe, I'm going to try to help them out.
Jett: You tour into a great many places where most bands, and in some cases not even ONE other internationally touring artist has ever performed before. Where do you find the motivation to tour into remote countries?
Max: Most of this has to do with where I am from. The fact that I am from Brazil and that it was very hard for me to see anybody perform live. There were only a few bands that even had the guts to go down there, including QUEEN and KISS. I take that as a life lesson. I told myself, 'If I ever make it in the business' I am never forget the fact that those bands came to Brazil!' So, now it's become very important. I tell my booking agent I want to go to remote countries, as long as there are fans and the people involved are into the shows... in most cases they are, big time, they are so happy you are going there, it's a dream come true for them. For me it's very motivating to see that kind of fire. They are hungry for the music. The minute you step on that stage, like Bulgaria, Macedonia, Belgrade in Serbia, they just had a war two years ago. You should have seen those kids! They were louder than us! We had to turn our guitars up, because the crowd was too loud, it was great! I really enjoyed that.
Norman: After all those years of Sepultura, and the record company expressing concerns about gear being stolen during trips back to Brazil, do you still have problems with suicidal fans trying to steal stuff?
Max: Yes, we still get this from time to time, and it's not just fans. In Russia, on the trains, in the middle of the night, just regular people, they opened the cabins and, for instance, in the case of our assistant Christina's cabin, they stole her purse and all the money inside of it. And, Americans were not necessarily the target in this case as items were also stolen from Russians on the train as well. It was a random attack on some of the rooms. I got lucky. Had they entered my room they might have smelled my dirty socks and probably turned around. There was nothing for them to steal anyway. From time to time you run into that. It's nothing alarming. As far as gear, I haven't had anything stolen in a long time, "knock on wood". (We all chuckle as Max searches for wood to knock on).
Norman: What do you have planned next for Soulfly fans?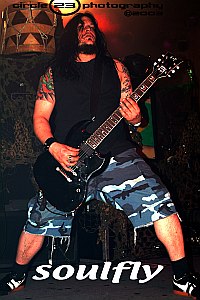 Max: I see an expanding of Soulfly in a much bigger way than ever. Already in Europe, Soulfly is today much bigger than Sepultura has ever been. After just three records, I didn't expect that. This album has put us into some venues that Sepultura was never big enough to go there. 4,000, 5,0000... So, my prediction is to increase in terms of popularity, but without having to change the music, and without having to change my vocal style. I will not change it. So, if it takes longer to get more popular because of that, so be it. I don't have any intentions to change the way I sing, the way any of the songs are. They are going to continue like that, progressing of course, but I never change to adapt to the market, or to conform to the hype on the radio right now. For me that doesn't matter. The Soulfly following grows every year in the right way. Not drastically big, but not to slow either. It progresses at a really cool pace. Every tour we do we get more people and we can definitely see the growth, which is good. That's how I want it to be anyway.
Norman: Have you received good feedback in regards to the "9-11-01" dedication appearing on your new album?
Max: Yes. Actually, more people talk about that than I expected. I thought, because it's kinda' subliminal, that not a lot of people would notice. When I first did that, the intention was a tribute to the victims of the tragedy. I'm surprised how much people actually talk about it. A lot of people thought that was cool, to use silence instead of words.
Jett: Three, dedicated to God, contains both spiritual and political references. Where are you going with this?
Max: This reflects a combination of how I am, and how the rest of the band believes. The guys all agree upon the topics of the songs. We all believe in a link with spirituality. And politically, we sing about freedom, being yourself, you don't need to change yourself in order to succeed. And the band, the crew, the family, and the tribe, we all believe in these issues. That's part of being in Soulfly, to believe in these things, and fight for them.
Jett: ::pointing to the symbol on the 3 album cover:: Does this symbolize that concept? What does it mean?
Max: No. That is a Hindu symbol that I found in a book, it's called the Ohm. In the Hindu philosophy, it's the "sound of the universe", the mantra. They believe that for every sound, this is the symbol for it. I'm a musical person, for me it's not just the guitar, but also the wind, it's a sound. The water. In the album, I use Nature sounds too, not just guitar sounds. From song to song there is some really weird combinations of sounds. Some stuff I recorded in Brazil. Nature stuff. Some Tribal stuff.
Jett: The photography is really exotic, as in from all over the world...
Max: The artwork was done by Neville Garrick. He used to be Bob Marley's artwork person. He's a real artist. When you look at all Bob Marley's artwork, this is some amazing shit that he did! And that was 20 years ago, I work with him now, this is the second record that he did. He did Primitive, too. He's an older Jamaican guy, he's about 60 years old now. He sits down, smokes a spliff, I explain the songs to him, and he visualizes what I talk about and puts it into portrait. He has ideas, like I'm a Leo, and in the cd artwork you see horoscope illustrations in the background behind the text provided by each band member. Scorpio. Gemini. Aries. Doing artwork with him is very exciting. Our artwork sets us apart from other popular metal bands in such a way as to illustrate that we are in a completely different area of music. To work with a guy like Neville, I'm a big Bob Marley fan. And when I knew that he was the man behind all of Bob Marley's visual artwork, I am both blown away and happy that I can work with a guy like that. Working with Neville is so much closer to what I envision for Soulfly. He really reads my mind when I tell him there's this song called "Last of the Mohicans". And he goes and grabs this awesome picture. (points to a carven mohican image shown inside the insert pages of Three.) And on the PRIMITIVE album, I really dig the picture he chose for the PROPHET. It is an old painting of this monk guy with dreadlocks and crosses, and stuff. It looks awesome. And that's all stuff that Neville did. He's just really good at that stuff. He's amazing.
Jett: (pointing to the photo insie the cd tray) That's actually *there*, and part of their hands, the symbol. Where did this take place?
Max: Yes, this is my family and I, my hands with all of my family and my kids. We painted our hands in gold, and then they did the Ohm symbol in red. This picture is taken in my back yard. We're all kneeling down in my backyard.
Jett: How many kids do you have now?
Max: Five. And there's also some extra hands, I believe that there's a cousin in there, or something. We needed hands, we needed a lot of hands!
Jett: So, you live here, in the United States?
Max: Yes, I live here in Phoenix.
Norman: The press info says that you lived in L.A. at one time.
Max: But, I never lived in L.A. I probably went there for a concert at sometime.
Norman: So, do you like the heat?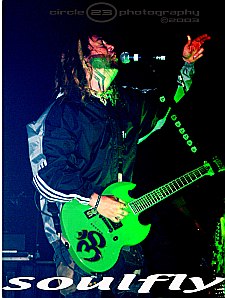 Max: Yes, yes. I am from Brazil, so, it's not too different! It's dry, though. That's the difference. I love Pheonix. It's my favorite part of the world to live. I wouldn't live anywhere else. I love the desert. Being a musician, for me, and living in Pheonix, is a dream come true! I can wake up in the morning. I don't have a studio. I just have my shit in my house. So, I go and record. I go outside in the backyard. And I have some 4-tracks. So, to record in the open air like that, I think that's amazing! I could never do that in Brazil, when I lived there. So, I really dig that about Pheonix.
Norman: What types of 4-tracks do you use?
Max: The old stuff. The old tapes. Casssettes, because none of the stuff I record ... none of them get to the album anyway. It's just the skeleton for the songs. So, I don't really care that much about the sound quality. Because when I go to the studio, I will record it all over again, anyway. That's just the original idea of the song.
Jett: You're still on the first lef of this tour, perhaps the 6th or 7th date, right?
Max: Yes, the American tour just started.
Jett: How have things been going so far?
Max: Really good. The only upset was that one show how to be cancelled. It was in Salt Lake City. (April 15th @ Bricks)
Jett: (sideways glance to Norman) Oh, really?
Max: The venue had some major problems, plus some security problems, and the show had to be cancelled. We found out later that Slayer had to cancel their show there a year ago.
Norman: Didn't the United tour...?
Jett: Yes! There was another show that we're covering here that got cancelled in Salt Lake City.
Max: Yes, it was really bad! We pull over, and there was no P.A. The guy is phoning everybody and his mother to find a P.A. And we're like, "Man! This show has been advanced for a month and you've got no P.A.! Are you crazy?" And then, we found out that there was a leak in the roof. It was all bad. And, all right, the best part is that we were there three years ago and we cancelled the show for exactly the same reasons! So, they had three years to fix the problems. And when we heard that Slayer was there and that they had cancelled, too. We told the guy, "We're sorry, man. You're just not acting professional at all." So, fortunately, because a lot of people wanted to see the show, because there were a lot of pre-sales, we've decided NOT to cancel the show, and instead to just postpone the performance until the end of the tour. And that's what really upset me, because there's nothing for me that is more upsetting than if you're a fan and there's a favorite band that you want to go see, and you drive all that way, get there, and then it's cancelled! It's heart-breaking! So, I told Gloria, "Let's cancel for tonight, but, let's come back. Tell them to fix the roof, and we'll come back and play." There were a couple hundred pre-sale tickets sold, and I'm sure that there would have been a good walk-in crowd, too, and so... we just postponed it. And we're going to return to do it at the end of the tour.
Norman: How did you like touring with IN FLAMES in September when you were here in Portland, Oregon with Slayer?
Max: That was a good tour. It was a very, very good tour. Those IN FLAMES guys, they were cool! One of those guys he came into my bus. And he has been a big fan for a long, long time... and he just wanted to me me... and I said, "Sure! It's no big deal, man!" He asked me, and so, I signed his guitar! So, I signed his guitar, and he was very cool, and very down to earth. And he said that he was just a big fan and that he was happy to be on the tour with us. So, I took him inside our bus and we chilled out for a while. And so, yes, I like meeting people like that... not like some others, you know, not big assholes.
Norman: No, those IN FLAMES guys are really cool! This history with those guys and Gothamburg is really amazing. They've got a circle of brotherhood. The guys from HAMMERFALL were all together with DARK TRANQUILITY and IN FLAMES.
Max: They're all linked with each other.
Norman: It's just amazing how all those guys grouped together and then when they go on tour, they like touring with all the bigger bands that they all enjoyed listening to when they were growing up.
Max: So, yes, he was a big fan for a long time. I could tell that he was a very big time Sepultura fan. And he just wanted to meet me and so it was cool. And I believe that we will cross paths again, because you know, anybody who is cool like that, I always keep in the back of my mind: That might be a good band to tour with in the future! If we get together again with them, I believe that would be cool. They are cool guys, and got good music. and that's a great combination!
Norman: They keep saying: "Just give us a call!"
Max: Do they live in Sweden?
Norman: Yes, in Gothamburg. What are the arenas like in Brazil as compared with Germany?
Max: The thing about Brazil, like I said, there's not many shows, like all the time. So when they do big festival like Rock'n'Real, they do pack 150,000 people into a soccer stadium. Which is amazing. That's a shitload of people! Anyways, when you step onto stage the first thing you notice is the big PISS smell. Because everybody will be pissing in the floor, you know, so it just hits you like a big wave of piss! That was my first memory of a Rock'n'Real, when somebody asked me, "How is it?" and I said, "It's great! But, there's this big piss smell that will almost kill you, man! You gotta be ready for that!" No, I enjoy the festivals. They're cool, and I enjoy doing them. They got those in Europe, too. Like the Dynamo, I did with NAILBOMB was a record. That was 120,000 people. It's like when you just can't see people any more. it's like...
Norman: ...just an ocean.
Max: Yes, they just disappear. And you wonder about the guys in the really, really back, "Can they SEE anything?" I don't think so! There's just too many people to see anything.
Norman: What's your following like in Japan?
Max: Pretty good. The last time we were there was in December. There was a two-day festival. SOULFLY headlined the first night, and SLAYER headlined the second night. And that was when the IN FAMES guys were there, too. It was quite bizarre, because MOTORHEAD opened for us. And I never expected that! Because I grew up with MOTORHEAD. And I did "Orgasmatron", but SOULFLY is more popular there. And, so, it was kind of strange. And so, I went up to their guitar player and I said, "You know, Do you want to swap? We don't have to headline this thing. If you do want to swap, then we'll switch. We won't mind at all!" And he was like, "Nah, it's cool man! It's just a big festival. You go right on." But, it was cool. I was happy just to see MOTORHEAD. I got to SEE four songs, and I was like, "YEAH!" "Ace of Spades". Man, that's the song. I was great to see them perform that live. I don't think I ever remember it before... we toured with Motorhead in the Sepultura days, but in those days, I was drunk all day long. And by the time that MOTORHEAD played, I was wasted. I couldn't remember 2 +2, or what it was. So, I never really got to SEE Motorhead, then. And, this time, in Japan, I got to see four songs. I am glad to see that they are still rocking afterall these years.
Jett: Have the years changed you and your habits?
Max: Yes, for me now, I really enjoy touring. Because for a long period, I don't remember anything for a full couple of years. Because we were just wasted, all day long. So, it was kind of a waste, really. Because on this tour, we went into Greece, and I was in Greece ten years ago and I don't remember it. If you were to ask me then, or before this tour, "How was Greece?" I don't know. And you might say, "You were there, right?" Yes, but I have no recollection of Greece. And so now, finally, I went to Greece again, and now, "Oh, yeah, the Acropolis! This is really cool!" Yes. So, I'm glad that I'm 33 and we're still touring and we get a chance to go back and see it all again, now. It's fun.
Jett: So, your birthday might be in July, then?
Max: August.
Referring back the press sheets and to Max's statements about attempting to play leads on the guitar...
Max: Yes. I just can't do leads. Mike does that. Even though SOULFLY doesn't have much for leads. It's really more just noises and sound effects. But he did a couple of interesting things on this new album, like with a whammy bar, which is back from the metal days, and he did some stuff on the song "ONE" which is very melodic. It kind of reminded me even of old METALLICA. And I thought that was cool. And I am encouraging Mike to do more of that in the future. Whenever there is a place for a lead, do something cool and make it classic. Rather than just wasteful. That'd be cool.
Gloria calls 'Time' as Max has an on-air interview pending momentarily.
Jett: I really enjoy chatting with a musician who is as driven as you are, Max.
Max: Thanks. I hope that you guys will enjoy the show. This should be a good one.