INTERVIEW: West of Zero
Portland Hardcore Band Talks - Hardcore! (Odeum)
By: Alex Steininger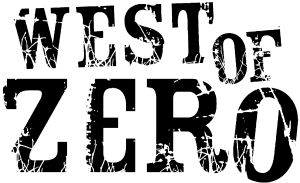 Portland, Oregon-based West of Zero, formed out of the ashes of underground hardcore local favorites 6 Minute Heartstop, explodes on the scene with their self-titled 3-song EP, released on bassist Aaron Edge's own Odeum Recordings.

Recorded in a whirlwind fifteen hours, including mixing, the 3-song EP exemplifies what this band is all about. This is sweaty, intense, head pounding, heart stopping, and genre bending hardcore. Consisting of four members, Thomas (bass), Sam (guitars), Mike (vocals), and Aaron Edge (bass), the band employs a variety of influences to create their sound.

"Sam writes all the guitar parts and he doesn't really listen to hardcore," explains Mike when discussing the bands sound. "We have a lot of different influences, ranging from the stuff Sam brings in, to Black Flag, to a lot of other stuff. That's why we don't necessarily like to call ourselves a hardcore band, but fit in well with other hardcore bands."

"I originally wanted the band to be a garage rock band. But with Tom, Mike, and Aaron, naturally, the sound is a lot harder," adds Sam. "The songs just took on a hardcore edge, as the other three are really into hardcore. I'd bring in my ideas and parts and then everyone would add their parts and the songs on the EP, that is the sound that came out."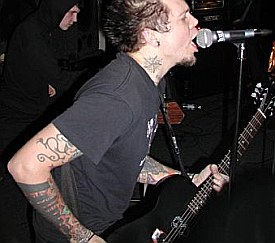 A true democracy, West of Zero's members each write their own parts, feeding off each other, and working off other's ideas, to the result of a common goal. To build songs that incorporates each members' tastes, while crafting a unique sound that doesn't directly or blatantly rip off any other bands.
"We knew what we were going to record, so every time we practiced we went over the main songs, so the recording of this record was in and out. We knew the three songs backwards and forwards and went in and nailed them," Thomas informs me.
"We picked the songs we were really comfortable with, songs we had for a little while," adds Sam. "Though, one song was new, but we thought it would work really well with the other two. So you really get a feel for what we're all about in those three songs."
For any loud band, one of the hardest things is capturing the intensity, the thrill, and the rush of playing live, in front of people, and the resulting band chemistry that occurs during this time. West of Zero's one desire when recording the record was to put this aggression on tape so fans could hear their live show in the privacy of their home, or on their car.
When asked if they think they nailed this goal, all band members uniformly say yes, saying the live show is more in your face because they're right there, in front of you. But, the record definitely portrays the power of the live show as close to it as they could get.
"It turned out better than I thought it would," comments Thomas. "I don't know what my expectations were, but it turned out really good and I'm very proud of it."
"We went in knowing exactly what we were going to do. It was so easy. We practiced a lot, and I think that is the key. That made the record. We busted our asses, got it down ourselves, and made the recording process easy," says Mike, as all members nod in agreement.
"We learned as a group we can record quickly," points out Sam. "It's going to help us out and save us money. We can go in and do what we need to do. No stressing out, trying to figure out what we need to do."
As for the band's current plans, they are currently writing and recording more songs, working on a full-length, while also playing out as much as they can, hoping to build a regional following before hitting the road. Look for them throughout the Northwest in 2003, playing your favorite punk rock clubs.