SHOW REVIEW: The Sins
Mt. Tabor Theatre & Pub - Friday, April 25, 2003 (Portland, Oregon)
By: Jett Black and Sonya Brown
Photos By: Kristine Rogers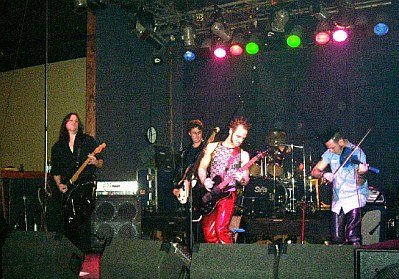 Who are The Fins, you ask? Well, who the hell knows? On Friday April 25th, THE SINS performed at Mt. Tabor Theatre and Pub. And, although they were billed incorrectly on the flyer as "The Fins", The Sins still managed to put on one fantastic show in spite of a little misplaced "f". In fact, the "s" hit the fan once electric violinist, Jyri Glynn took the stage for his solo at the start of the set.

Throughout the evening, The Sins (Seattle) clearly won the Portland crowd over with stunning performances on the electric violin by Jyri Glynn. Indeed, die-hard fans from the band's Seattle home-base contribute to the standing-room-only atmosphere at Mt. Tabor, greeting The Sins with thunderous applause after the opening violin solo, and ending their set with repeat demands by the crowd for several encores (denied by the venue).

Guitar rock sounds from Goth-A-Billy to romantic retro; aggressive pop-rock, with a dash of wicked hoe-down, brings a little bit of something for everyone. Even the black-velvet-clad were swinging arm-in-arm in dosey-doe fashion!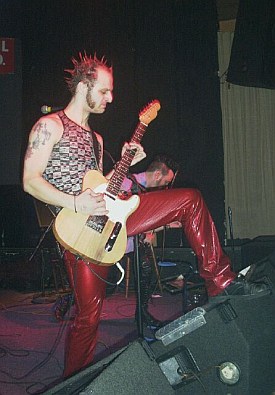 Front-man Nightmare Boy, sporting a punk red mohawk and red vinyl pants, belts out the tunes in true cock-rock fashion. Each band-member is showcased to exhibit illustrious skills in guitar, percussion, bass, and violin. And, the eye-catching Peavy Amplifier "Wiggy" (designed by Dweezle Zappa), featuring an antique style dashboard filled with lit-up gauges for hypobaric pressure measurements (and other cool stuff), also makes quite the unique appearance onstage.
Performing half a dozen songs not appearing on their recently released full-length debut cd, "The Beginning", The Sins showcase both songs from the album plus another half-dozen auditions of new music that may appear on a forthcoming release which many NW music fans eagerly anticipate. Nightmare Boy reaches back to teenage roots for one song, and then moves forward to pull from music written just hours before this evening's performance. Throughout the presentation, the entire band moves through the harmonies with admirable grace, and individual passion for the music itself. The audience picks up on the swanky vibe by first solo dancing, and then spontaneously grabbing partners to share in contagious momentum.
Hopefully Mt. Tabor will remember to spell "The Sins" properly the next time they visit. But, either way, we'll be there to share in the fun.