Holocaust
Primal (Edgy Records)
By: Vinnie Apicella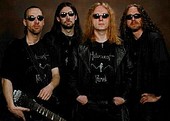 Holocaust's ninth album sees mainman John Mortimer (guitar and vocals) bring in new band members for this return to their HEAVY roots. These are fellow Scot John McCullim on guitar and two Yanks: Ron Levine (drums) and Bryan Bartly (bass).

The album was recorded in both the States and Scotland. This, the bands first album for three years, sees Holocaust return to their Metal heritage: a heritage that saw various covers of Holocaust songs in recent years by Metallica, Gamma Ray, Six Feet Under and the Meat Puppets.

Also watch out for the Sanctuary Records release this month (April 2003) of a double Holocaust anthology called 'Coming Through' covering the whole career of the band - a great selling point for this new album.