Soulfly
OHM (3) (Roadrunner Records)
By: Jett Black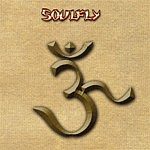 Music on this album referred to as THREE, or OHM fits the World Metal music genre generated by the very founder of this new music genre, Max Cavalera and SOULFLY. Rhthym guitars, and entrancing percussions lull thelistener into a portal of transcendent consciousness. Sights and visions come into reach through the sounds passing through the 14 tracks of music available on OHM (or THREE as some may persist in naming this album.) The momentum of the louder aspects of the music present scenery such as the mosh pit spinning into the enchanted realm of the rain forest, and cascading headlong into the empty desert of politics and mayhem.

War mongers will be drawn to the militaristic stride os many of these tracks such as "Seek'N'Strike", "Call to Arms", "EnterFaith" and perhaps humbled by the moment of silence that track 9 delivers in "9-11-01".

Adventure seekers may feel compelled to pull on the straps of backpacks and turn up the noise of "Four Elements", the tranquility and mesmerising intro of "One" that steps up to the call of duty to be recognised and appreciated for the message within.

Anyone who tunes into OHM (3) by SOULFLY must feel motivated, or compelled toward some sense of proactive soul searching. World Metal as conveyed by OHM (3) provides the essential tools one needs to tap into self-actualisation... and not in a passive way of sitting cross-legged and chanting the mantra, but rather in any physical activity that compels the legs and body to move forward, search both world outside, and the soul within.

Neville Garrick, who designed the artwork for PRIMITIVE, provides the masterful photographic artwork and design depicted throughout "3", the latest Soulfly album, illustrated on the front cover by a Hindu symbol that Max explains to mean literally "Sound of the Universe". Soulfly gives thanks to countless names across two of the 16 full-colour cd booklet panels that exhibit breath-taking photography illustrating relationships between Nature, Humanity, and the sense of God that connects all of it, including the music, together.

Reaching now for a bi-focal magnifying glass, I found among the 6-point font many American musician notables the following: Sean Lennon, Vanilla Ice, Metal Megan (My Ruin), Dave Navarro, Slipknot, Cypress Hill, and Joey Ramone.

On the last page, a prayer is found which seems to relate well to the tribute to music within the track entitled: "9-11-01" And I quote:

Saint Micahel, The Archangel, Defend Us in the Day of Battle. Be Our Protection Against the Wickedness and Snares of the Devil. May God Rebuke Him, We Humbly Pray; And Do Thou, O Prince of the Heavenly Host, By the Divine Power of God, Thrust into Hell Satan and All Evil Spirits Who Wander Through the World Seeking the Ruin of Souls. Amen.

In the USA, religion seems to play a symbolic role in the lives of many, and a devote role in the lives of others. For Max and "the tribe", praise to a religious deity appears to play the role of honour without which all else would not be possible. The music in no way appears to preach a religious message, but instead to convey an appreciation for the priviliege of being alive, being free to live, and free to pursue all aspects of justice that so many reading this message may have at times taken for granted. Max never takes his freedom for granted. Max appears to be the most humble and sincerely thankful musician I have ever met. Nothing about this man appears cavalier, or wreckless, nor in any way unappreciative of every moment in which he continues to live and breathe fresh air. If there is any American musician closer to some sense of Nirvana, I cannot imagine it.

Max Cavalera, a musician born in Brasil who has numerous times performed live in front of more than 120,000 fans in one day, and who globe trots to 18-21 countries during world tours, resides now in Phoenix, Arizona with his family and plays his music each day, in the open air, as though God and all things nature were the only audience a musician need ever hope to satisfy.