ArthurX and The Scars
Love, Peace, Flesh (Arthur X)
By: Brian Barry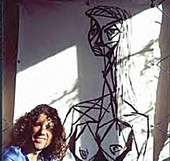 I should have written this review months ago. Hell, probably a year ago. However, I was unemployed, another victim of the recession, a copywriter in a failing advertising field, picking up jobs at hemorrhoid medication companies and interactive shops, and unaware of the massive postal blockage I was causing by not checking my po box. So, here I am taking a listen to Holland's own "ArthurX and the scars", available for your viewing and listening enjoyment at thescars.com. I reviewed them a hundred years ago and this time around, they've sent me "Love, Peace, Flesh." They probably hate me for not doing this earlier, I fear retribution, but I love them all the same - please don't kill me and if you decide to, do it real slow and please remember to play your music.

Now sit back and think about this. It sounds like the title. If you don't believe me - go to the website as you read this (thescars.com - got it?). Imagine Jim Morrison with a mouthful of crackers trying to imitate early David Byrne. Arthur, the lead singer, is a true poet and you can feel every word, all the mystical shit he's trying to push out, leaning on some giant musical toilet where blood swirls red, then fades to pink leaving clots to fend for themselves on the dirt steel. Needless to say, it takes a very special person to be a fan of the scars. Arthur takes you down a twisted road at dusk, his voice so tormented, his lyrics slightly coded, the mood of the music - frantically depressing, the lonely moaning guitar - high children laughing in the distance. If you were on heroin, had a headache, and it was 3am and you couldn't sleep - the scars would be on the radio just making things worse but better at the same time.

Let's go to my favorite tracks. "Hooga." According to Arthur, Hooga "Looks like a banana and it feels like pain. Drive like a Rolls, and it feels like Jane." Now, I've heard otherwise about Hooga, but I will definitely take his word for it. "Hooga" sounds like it reads - a siamese guitar and bass quick punk mentally damaged call and answer riff topped with a cherry and a tom drum triplet to each chorus of "Hooga, Hooga, Hooga, hook hook hook", it is seriously an insane song...no, really. I love this shit - my dog is barking right now - something about "Hooga" makes a dog go absolutely apeshit. So it's off to my next favorite track, where Arthur transforms into a Mick Jagger with Teretz Syndrome (well, he usually sounds like that). Now, I am never really sure what Arthur is talking about, but this one seems like he just lost his lover or his lover wants to come back and he won't let it happen or he just stole somebody's wallet and it was some kid who was saving a while and really needs the money and Arthur is just too stoned to get up and answer the door or phone, but here are some of the lyrics - you figure it out, "And you kept calling on the phone, And you kept knocking on the door, and you kept begging for much more, and you kept kicking on the floor - But I could not help you, I could not serve you, With my heart, For now and forever. And I watched out of my apartment door. You had my life now. You had gone so far now. I won't see you, I won't feel you. Anymore. For now and forever. And I watched out of my apartment door."

Deep shit. I like the scars folks. After touring Florence and being shown on Dutch National TV, they'll be making their way to NYC - where I know they'll get the long sought after love they deserve. It took me a while to get used to them, Arthur is incoherent at times, like a drunk without teeth, but he grows on you, well, like a scar...from a cut you never thought you had and have no idea where or when you got it. Check out their great website (Did I say they were from Holland?!), get your rocks off and keep breathing. Oh yeah, if you're drunk and it's late and you're at a friend's house, give them a call at 0031-(0)6.14.74.84.66. Rock on.