The Eels
Shootenanny! (Dreamworks)
By: Alex Steininger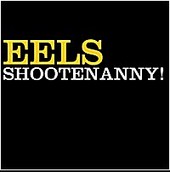 On their sixth full-length, seventh if you count the live album, Electro-Shock Blues Show, The Eels deliver a memorable pop-rock record, a tantalizing album chalk full of beautifully rich melodies, a few electronica-induced beats, and enough sparse, airy piano notes to fill out the songs. Coupled with E's lyrical insight, the album shines as one of the best, if not the best, Eels albums to date.

Shootenanny! is a fine accomplishment, a record that proves The Eels haven't gone stale, nor have they fell into complacency, as they strive ahead and push forward, challenging themselves track to track, able to create gorgeous pop alongside jangle-y rock. I'll give it an A.