Lillix
Falling Uphill (Maverick Records)
By: Ronald Vaughan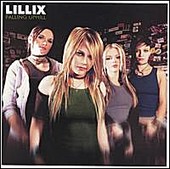 These four gentleladies from Canada---sisters Tasha-Ray Evin (guitar);Lacey-Lee Evin (keyboards); Louise Burns (bass);and Kim Urhahn, rock!

Their rock-pop effort is excellent, with solid playing and singing, literally breathing new life into the idiom. It's mostly rock with about a couple of pop ballads.

"Tomorrow" comments on everyday life. "Quicksand" is about a person burdened with worry. "It's About Time" comments on existence itself. "Dirty Sunshine" seems to be singing about a "bad-hair day". "Invisible" chronicles the need to be recognized; "24/7" is about waiting for an absent lover."Sick" goes about dissing an ex-companion she's dropping;"Because" laments a wayward date;"Lost and Confused" is a song about mixed-up emotions;"Fork In The Road" is a tune about making decisions; "Promises" is a request for faithfulness from a suitor; "What I Like About You" is an EXCELLENT cover of the old Romantics song from the Eighties, now used as the title song of a new WB-TV show.

It's produced by the Matrix.