Plural
Have a Rad Summer (Nah Pescado Records)
By: Alex Steininger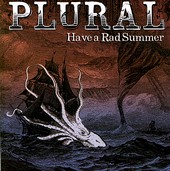 Fronted by ex. Buck-O-Nine bassist Scott Kennerly (who also engineered and mixed the record), San Diego's Plural completely erases any bad and/or good memories you may have of Kennerly's ska-punk outfit. A different animal all together, Kennerly crafts songs that mirror his eclectic tastes of music, incorporating Irish influences with rustic folk ("Feeling My Age"), loose, guitar-driven pop-rock ("Birthday Girl"), and plaintive, heart-on-the-sleeve folk transformed into rock with the addition of some guitar buzz ("Don't Tell A Soul"). [ed: the two latter songs a tip of the hat to The Replacements, going as far as lifting song titles and writing their own songs?].

"For You Tonight" beats with your heart courtesy of the thumping bass line which drives the melody (and the hook-y guitar riff which follows), while "Summer Air" drops it down a notch to fuse a Spanish guitar riff into an almost Native American-esque folk piece.

The band then drives it home near the end with "It Could Be Real", a punk-inspired, garage-rock raised pop song. And winds it all down with the heartening acoustic muse "Christmas".

With such an eclectic record, Have a Rad Summer, Plural's debut, comes together nicely. It flows well from one track to the next and sounding like it is - a bunch of musical lovers fusing their influences and paying homage at the same time, while finding relief and solace in the sounds they're creating. Heart warming and relaxing, it's the perfect record to play while you're out in the sun, pondering, and, having a rad summer. I'll give it a B.