Tammy and the Lords of Misrule
King Maker (Her Highness Porcupinus)
By: Gary "Pig" Gold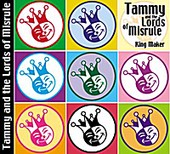 If there's a rougher, tougher, 1-2-3-4 opening punch than "Kind Of Girl," "Radiate," "This Time" and "What Baby Wants" out there, then I wanna know about it! Coz not since your favorite late-period Kinks long-player has a record launched itself so deliciously decadently --yet with one charmingly curt smirk invitingly hanging upon its every note.

Tammy Ferranti and her trio of misruling lords, in other words, have herein produced one hard-popping Southern California comer (meaning heavy on the guitars and Bonham-sized rhythmic method, but with hooks 'n' harmonies draped from every single killing chorus). Why, "Careful" should even be crowned the very next 7-11 jingle --and I do mean that as a compliment! Then this particular party even ends with a song called "Clockwork," which absolutely puts to proper shame such similarly syncopated rave-ups as those of, um, No Doubt et al. But as always, Tammy does it best and better, you bet.

So? GET this one, ok?