Tim Bluhm
The Soft Adventure (California Recordings)
By: Alex Steininger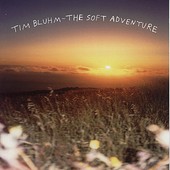 A collection of two albums, The Soft Adventures EP and Colts, former Mother Hips songwriter/guitarist/vocalist Tim Bluhm's The Soft Adventures full-length includes sixteen tracks, old and new, that find Bluhm creating soft, tender acoustic folk-pop songs steeped in country. Mellow and laid back, it sounds as if Bluhm sat at home, in a comfortable easy chair, strummed his guitar, and sang whatever came to mind.

Throughout the fifty minutes of this disc, the pace never really changes, that relaxed, carefree vibe holds up throughout, as Bluhm travels between sweet pop, fragile folk, and pure country, switching off between the three, and often combining them on his musical journey.

Whereas the Mother Hips tried to rock up the songs, sometimes to the dismay of the songs themselves, Bluhm keeps everything simple and natural, allowing the songs to breathe, and thus stretch their wings and take on new life track to track. As such, Bluhm has created his most organic, moving collection of songs to date, pointing forward with a promising career. The band is gone, but he hasn't lost a step. I'll give this a B+.