The Kills
Keep On Your Mean Side (Rough Trade Records)
By: Alex Steininger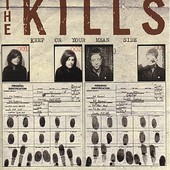 London-based duo The Kills consist of vocalist/guitarist VV (aka Alison Mosshart of Discount fame) and drummer/guitarist/vocalist Hotel (aka Jamie Hince). Formed out of the ashes of Discount, when VV and Hotel started trading tapes via the mail, VV eventually opted to move to London to write and record at a quicker pace with Hotel. The result was their Black Rooster EP on Dim Mak.

Keep On Your Mean Side is their debut full-length, and is the furthest thing from Discount's pop-punk as you can get, musically and vocally. Expanding on the sexy, sultry blues-punk of the Black Rooster EP, Keep On Your Mean Side may sound familiar on paper, what with the blues-punk focus and the boy/girl duo behind it (remind you of the White Stripes?). But The Kills are more rock focused than blues, and go for a darker, moodier, and more atmospheric approach, as demonstrated on a song like "Kissy Kissy", a song that pays more homage to the Velvet Underground than anything else.

Darkness is The Kills 'thing', if you will, and even the most rocking of songs they manage to keep dark, while still dishing out the punk rock, like on "Superstition", a song that brings The Pretenders to mind. Or "Pull A U", a song not unlike that of the Jon Spencer Blues Explosion, just a lot sexier and even more stylish.

The Kills have no problem proving they're not in it for the trend, separating themselves all too easily from their peers, creating a unique blues-punk sound that is equal in footing, darkening and brooding the two and giving them their own face, track to track. One of the most original of the bunch; I'll give it an A.