INTERVIEW: The Prids
New Wave? Gothic? With A Twist? None, says the Pop Band! (Luminal)
By: Ramona DeNies
Photos By: Marc Mondo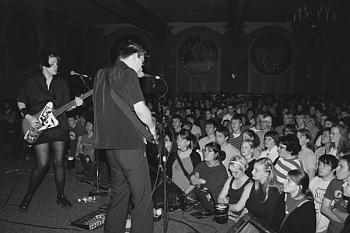 Much has been said about The Prids' new wave affiliations - Joy Division, New Order, The Cure - enough to stifle a band that insists on transcending the traditional genres. But The Prids aren't that band. In fact, big-hearted singer/guitarist Mistina Keith seems unconcerned with such pigeon-holing.

"It doesn't really bother me. The press has to latch on to something. When we do national tours they always say The Prids are new wave, or The Prids are new wave with a little gothic. It's very rare that anyone actually says, oh, there are really mixed elements in their music - if it's a big review. But all the weeklies say we can't be defined. I think we're just a pop band."

Mistina and I are drinking cheap beer at the Lutz, in the Woodstock neighborhood where The Prids all live - in the same house. The Prids, you see, are more than musicians linked by several critically acclaimed albums. They are a combination of friends and former lovers who have moved from Missouri to Nebraska to Portland to further the band's interests, and they have grown tight and feisty like siblings. You get the sense that if The Prids were to live up to current expectations of grandeur, they damn well better make sure they stick together. A break-up would probably detonate the whole neighborhood.

Mistina laughs - she is chatty and hopeful that I'll write positive things about the show I witnessed May 30, at Portland's Crystal Ballroom, shortly before The Prids departed for a national tour. I'm touched that she believes me capable of trashing her band. She doesn't realize she swept away my only potential ammo by acknowledging the inevitable New Wave parallels. The Prids may have borrowed, but they're convinced they'll repay the legacy with interest.

The Prids have carved out an enviable niche for themselves in the Portland music scene. Everyone seems convinced the band is going places. Music reviewers have generally approved of the band's lush, sparkly power chords. Onstage the band oozes a certain dark, exuberant glamour. The audiences I've witnessed seem to lose themselves in a certain kooky nostalgia for an edgier, more ebullient period in pop music. In Portland, they're even compelled to dance, my personal thermometer for a band's commercial appeal.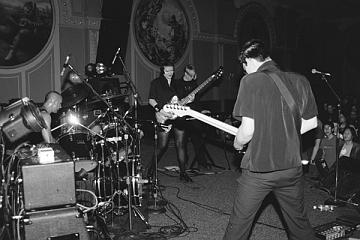 Mistina talks about her love of the Smiths, and the overwhelming, transported feeling she has when she listens to her favorite bands. She says that's the feeling she hopes was communicated that Friday in May, when The Prids opened for fellow Nebraskans Built to Spill. Judging by the rapt attention of the very large audience, I'd have to say the band managed quite eloquently.
The Prids have recently lost their keyboardist, and Mistina says the band has decided to maintain focus on the remaining three members. She says change is generally a good thing for bands. It certainly has proved positive for The Prids of late.
The band's recently negotiated contract with Luminal Records affords them freedoms most signed bands would die for - control over booking agents, publicists, shows. The Prids' future Luminal albums are guaranteed to be released on vinyl, and the band retains all copyrights to their material. Mistina says the band weighed many options before going with the small label.
"I don't know- is a major label really going to give that to you?" Mistina asks. "I know Built to Spill is on a major label and that's one conversation I didn't have with them that I wish I would have - how does it work? Do those guys do what they want? They were traveling in a van like we were, so that probably shows you where the money cuts off. It's like, integrity or money - choose!"
The band is, however, responsive to the fanfare they've received of late.
"Of course, I'd love to be the most gigantic band on the planet - I really would. I just think it would be really hard. I mean, even now if I read a bad review, my God! It just tears me apart! Even at our level, it's not - 'Oh, I just didn't like that band'' it's more - 'I want to fucking kill that band!' It's an all-out attack - one reviewer called our fans 'droopy'. But as far as reactions to becoming really famous, it could go just about any way. I guess I would love to. Why not? I've always not been famous, so why not something new?"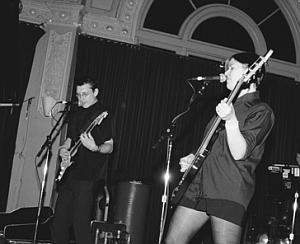 When asked about The Prids' sound, Mistina says, "we still go for the big endings. We can't help it - we're like, let's go crazy!!! Some of it's really rockin', some of it's really poppy, some slow songs. Actually, I really like the new record because it has all the elements. We're going to do a Misfits cover, that's our next 7-inch. I've been wanting a bit more stripped down sound lately. I've been really inspired by Wire lately."
The Prids moved to Portland three years ago, drawn by a music scene they describe as vibrant and welcoming, and a local activism that feels familiar to the band as self-proclaimed extreme liberals and hard-core vegans. But Mistina says the band members' vegan lifestyle and self-described "extreme liberal" politics aren't manifested in their music.
"Most of our music is about our fucking love lives. Maybe as we get older that'll change. But we're going to stay based in Portland, as there isn't a better place. And I've been everywhere in the United States!"
So don't look for politics in The Prids next album, due out on Luminal Records in early 2004. Do, however, look for the fog machines and spectral light shows that herald a Prids performance in Portland in the next several months. The Prids have returned from their summer tour, and I'm sure the reviews were good.