Menomena
I Am The Fun Blame Monster! (self-released)
By: Alex Steininger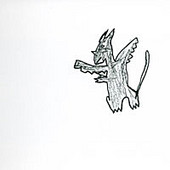 If Broken Social Scene's You Forgot It In People isn't the album of the year, Menomena's I Am The Fun Blame Monster! is.

This Portland, Oregon trio came out of (seemingly) nowhere to produce a fascinating, awe-inspiring, jaw-dropping record of immense potential. Like a good lover or winning the lottery, Menomena's I Am The Fun Blame Monster! is something to brag about.

Complete with a 64-or-so page flip book as the insert (!!!), if you're not instantly drawn to Menomena when you see the packaging, upon first listen you will be sold on this band.

Fusing equal parts indie-rock, jazz, atmospheric rock, pop, and an ambient styling. Menomena creates a late-night, coffee-buzzed indie rock adventure that takes you outside of the dingy rock club environment into a smoky, sophisticated jazz club. The horns healing all that ales, while the other two members blend into the ambiance and, soon, re-create the atmosphere - regardless of the environment or situation.

Soothing and gentle, subtle and quaint, and approachable and unpretentious, I Am The Fun Blame Monster is everything in a record - for both consumers and musicians.

The soothing drone of "The Late Great Libido" soon breaks into a dark, shadowy indie rock jaunt. The jazz influences enriching and enlivening, while the vocals, at first seeming detached, jump out at you like a man from a dark alley, except you soon realize it's a happy surprise, and you blend into the vocals.

"E. Is Stable" continues with the band's passionate, mesmerizing indie rock haunt, the illuminating guitars paving the way for the rhythm section's cold, winter-y vibe, before everything swirls together in a beautiful portrait. Coming alive, the song soon turns into a bouncy, yet contemplative slightly-sing along, melody-laced piece of art.

The rest of the album leaves you realizing the flawless talent of this record.

"Twenty Cell Revolt" is a percussive, vocally-rich number that glows like the moon in a clear night sky, the heart-stopping piano and burn of the horn driving the song to green pastures.

While "Trigga Hiccups" shows the bands post-punk influenced side, if ever so slightly.

This was a good year for music. Anyone that hears "I Am the Fun Blame Monster" will attest to that; an unheard of (for now) gem of precision, beauty, and stunning, mind-numbing expertise. There is a new kid on the block, Menomena, and they're here to re-establish indie rock as an inventive, creative, passion-fueled art form. Not a shoe gazing, pretensions breeding ground for tomorrow's radio-friendly lookalikes. I'll give this an A+.