Big Collapse
Prototype (The Militia Group)
By: Vinnie Apicella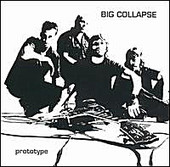 Forget about who they are and where they came from-- and where they're going for that matter. How often do you hear of a band crossed between Helmet and early Def Leppard? Seems preposterous, but you just have to listen nonetheless. There's a little Joe Elliott in Josh Loucka's rather raised pitch and yeah, save for the Lep's sugary backing vox, there's a little bit of "Hello America" in there somewhere and with a thinner production level than any of the later records would indicate. Helmet-- they were heavier and fuzzier than anything here but the riffs are choppy and dense in a similar way but the tunes come away more like Rocket From The Crypt or Supersuckers recalling the band members' individual Punk Rock and Indie upbringing with groups like Burn, Shift, and Flashpoint. There's freshness in the combination of things they do which might have something to do with their NY to LA transition, that combines a playful Pop charm with a coarser Punk edge, and thrift shop mix that lends a vintage blues vibe to tunes like "Deliver Me" or the hard rockin' "Private War" and "Adds Up To You."

Of course we could go further in the label dropping scheme, tossing in Emo-Rock and Indie-- The Def Leppard thing just doesn't go away though. "Sorrow Is A Woman--" and the thing is, even DL fans probably couldn't name six songs off their first "On Through The Night" record. No-- there's not even a hint of the sticky-fingered crap the band came out with when they lost their urge to play. "Automatic" could've been written by The Romantics in the '80s or The Strokes today and few could tell a difference -- gritty Rock you can groove or get gassed to. "Prototype" picks up steam in the latter half of its ten tracks. "We All End Up Dead" downshifts a might, suddenly vindicating my prior but unprovoked comparisons to recent AFI successes, stripped clean and wholly organic with Loucka's voice and guitar play stepping in and out of the Havoc/Puget pool. "Prototype" follows no one model in particular and abandons the blueprint formula for chunky three-chord inspired Heavy Rock to incorporate a mix of popular styles and still comes away as authentic and original. Not an easy thing to do.