Queensryche
Tribe (Sanctuary Records)
By: Vinnie Apicella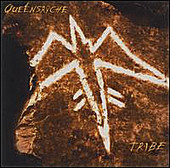 When was the last time anyone got excited about a new Queensryche album? I don't ask this to be facetious, but I think considering their less than stellar output for most of the 1990's and the start of "Q2K," there's only so much faith one might possess-- or the proverbial "rope" one allows the once great commodity gone community detriment. If we are to be satisfied that even the biggest name supergroups can muster only two or three good if not great tracks and leave another ten or eleven as smoldering waste, then bands like Queensryche, Fates Warning, James Taylor, or whoever else you may equate them with, fall well within the law of averages. In that event, "Rage For Order" and "Operation: Mindcrime" were simply apparitions-- and "Empire" a commercial success that no one's revisited since. Whoever woke up one morning and suggested QR become a garage band and play like alterna-metal wankers should seek psychiatric help--quickly. And I say this while one of the most ridiculous of 'Ryche tunes pollutes my ears about an hour after it finished -- "Desert Dance" -- where if it weren't so annoying with its "tribal-like" ramblings and gangsta-style chorus, could probably be quite entertaining.

Okay, Tate and the guys aren't afraid to take chances; they've grown and aren't content with duplicating the past. Yet they do seem satisfied to duplicate the recent past where for about four albums now, the key connecting element remains, lethargy. But is it me, or aren't typically instrumental bands supposed to play to their strength? This idea of simplicity and trash can production value is laughable for a group of this magnitude. A song like "Falling Behind" is a given, considering their thirteen year old breakthrough ballad "Silent Lucidity," a song forever followed yet never equaled. QR does seem to be past the idea that they can or should compete with the more marketable teen acts of today, so why not fast forward twenty years and go completely adult contemporary? Works for Pete Yorn and Train, right? "The Great Divide" would be among the stronger of QR's newer cuts with a beefier production, yet it's typical of songs like "Right Side Of My Mind," a strong "Q2K" track that slowly builds and breaks at the chorus, rekindling age old fires of breadth and tuneful scale.

Chris DeGarmo makes a slight return to the fold by contributing some writing credits and a few guitar harmonies here and there, though I'd dare you to pick them out. Oh yes, maybe that's old Chris doing the solo on-- yeah, exactly. "Rhythm Of Hope" is another AOR track that's Gilmour-like in the classic Floyd sense and Tate's delivery follows suit in a soaring, swooning way, something that's never wavered since day one. By that point, I'm resolved to pulling whatever singular elements the song contains rather than judging it for its entirety. The title track, "Tribe," with features one might quickly ascertain, can be filed under "preposterous"; "Blood" is another father-figure of a song only with a chilling vibe and catchy chorus together fastened by nervous drumming to become among the more captivating of QR's cuts. "The Art Of Life" is a terrific pre-closer for the same reasons "Right Side Of My Mind" was mentioned earlier -- it's a catchy, emotional blend, if slowly developing, of an earlier 'Ryche style with a little more melody and punch that they often miss today.

QR's latest is more of what we've come to expect from them since "Promised Land" signaled the beginning of the end on the depth chart. There's a couple tracks here worth repeating, most of the rest are forgettable; followers than leaders that wallow aimlessly in the dark in spite of the record's pointed self-discovery-reared theme. It's unimaginable this is a full group effort. The musicianship speaks nothing of five talented players setting the pace for Rock progression built on instrumentality and songwriting depth, but rather bar stool sitting, forty-something folk players gigging the nearest dinner theater. There's nothing to get excited about.

The only progression that still exists is in the lyric writing, and even then, there's nothing written save for GT's explanatory cover page message. "Tribe" preaches of unity and the eye opening experiences of Mr. Tate's wanderings to find himself in post-9/11 America; which could explain much of why "Tribe" plays often like another of his solo records rather than the full band experience. "Live Evolution" seemed the start of something big again for QR where for the first time we could actually equate old with new and realize they're one and the same group of musicians. What we're left with here is a Def Leppard-sounding, soft in the middle album of seven of ten nap inducing tracks. What will it take to light the fire for this band again?