Roy Orbison
The Complete Sun Sessions (Varese Sarabande)
By: Gary "Pig" Gold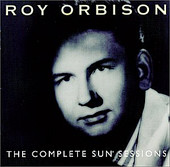 For those who may be only marginally aware of The Big O's 1950's recordings (ie: via Creedence's credible cover of "Ooby Dooby" 'way back when), Varese Sarabande has now compiled them ALL, along with a smattering of cow-licked alternates and demos, onto this one shiny silver platter.

Not surprisingly, gentleman Roy's early combo The Teen Kings were pretty dern polite in their proto-rockabillicious approach (f'rinstance, their "Trying To Get To You" sags far behind Elvis, Scotty and Bill's), but there are still treasures aplenty to be heard herein, particularly the six-song run of near-Unplugged-style tracks which appear halfway through this collection. Be duly forewarned however: Roy's trademark operatic throat is detectable only occasionally atop the slower selections (such as the entirely Ricky Nelson-worthy "A True Love Goodbye" and the eerily anti-Cash rendition of Johnny's own "You Tell Me").

But the Orbisonite most intimate with "Crying" and "Only The Lonely" et al should be jolted for the proverbial loop when confronted with the man's guttural guitar prowess: a hitherto-unremarked-upon talent seldom ever displayed after Roy departed the Sun roster for more mainstream pastures. Yessir, his leads throughout "The Complete Sun Sessions" cut razor-sharp -- maybe not as jaggedly as Link Wray's, mind you, but I can wager for one that Hamburg Silver Beatle George was certainly studying these expert Teen King solos most closely indeed.

So just forget the 1980's-vintage varieties and settle instead for this hour-plus of TRUE black and white nights of three-chord splendor, won't you?