Eddie Spaghetti
The Sauce (Mid-Fi Recordings)
By: Alex Steininger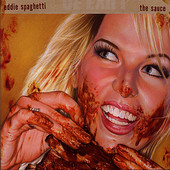 The Supersucker's front man Eddie Spaghetti, who has led the band through AC/DC meets Motorhead coupled with The Ramones rock 'n' roll, as well as true, blue collar country (Must've Been High and it's live counterpart, Must've Been Live), has ventured off on his own. Recording his debut solo record, a collection of (mostly) covers -- country covers.

The Sauce includes two originals: "Sleepy Vampire" (found on the last Supersuckers record, Motherfuckers Be Trippin' (Mid-Fi), in its rock form) and the album's single, "Killer Weed".

"Sleepy Vampire" is an acoustic, roots-y number, delivered in a very campfire sing-a-long style, while "Killer Weed" is a down home, blues-tingled folk song, with Spaghetti's trademark tongue-in-cheek, carefree humor.

The rest of the album is filled out with covers ranging from Willie Nelson ("Gotta Get Drunk"), Kris Kristtofferson ("The Best of All Possible Worlds"), Waylon Jennings ("Little Ol' Wine Drinker, Me"), and Steve Earle ("I Don't Want To Lose You Yet").

All songs are done with a slight country tinge, but more so played with a roots-y, Americana touch and Spaghetti's comical demeanor, all of which equate to a good time and plenty of smiles and laughs. Spaghetti has blessed us with drinking music that should make you want to cry, but rather makes you want to drink and have fun while he delivers the runaway, and quite unexpected (and yes, a bit dark), party album to facilitate the good times. I'll give it a B.