Seabound
Beyond Flatline (Metropolis Records)
By: Vinnie Apicella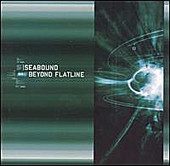 Among the more intriguing developments in the synth-pop circuit, Seabound's "Beyond Flatline" can be described as tumultuous yet tame, full-bodied yet multi-legged. In fact they described their own intent through the name itself -- to leave the sanctity of home to embark on a journey into the unknown. Metaphorically, it's a moonlit cruise through calm waters and rough seas that's as challenging for all its electrical intricacies and unexpected nuances while captivating the senses with an ever present rush of moonlit ambience amidst a dark sky. "Beyond Flatline," thus, is a listening journey that takes the known sum of electronic elements and shatters them into pieces laid at the foot of the listener whose goal is to process, assemble and arrive enlightened.

Not without its degree of occasionally clumsy moments, however, mindful yet we're only on album number two, "Beyond Flatline" is a combination of catchiness and quirkiness; techno beats and transient ambience embracing time shifts, mood swings and unexpected movements likened to Depeche Mode's more adventuresome moments -- "Soul Diver," "Torch" -- giving way to flashy Club beats -- "Poisonous Friend," "Go International" -- altogether layered in cinematic depth and drama. It's no surprise that only one album into their departure, 2001's "No Sleep Demon," the German-based duo of Frank Spinath and Martin Vorbroot have already shared stage lights with the likes of Covenant while garnering additional comparison to big name purveyors like Haujobb and Wolfsheim. Let's also acknowledge surprising American upstarts, Bellamorte, at least as far as tech-rich innovation, though their sights are set much wider than the Electronic scene. "Beyond Flatline" is a mature and mesmerizing dance mix and dreamscape set into the realm of self-discovery where along the way we'll listen, explore and transcend earthly boundaries.