Dane Cook
Harmful If Swallowed (Comedy Central Records)
By: Alex Steininger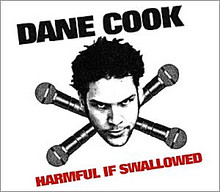 Who is Dane Cook? Should I be familiar with him? Well, maybe I should read his bio, do some research on him. But, why waste time when I can just listen to Harmful If Swallowed, Cook's comedy record on Comedy Central Records? "Parking Structure" is a fucking brilliant insight into parking structures. It delves into aspects of parking structures you probably have never thought of, while "Car Accident" is dead accurate on people's sad, but true reaction to car accidents. "Pregnant Lady" offers plenty of laughs, while "Five Sisters" makes you glad you didn't grow up with five sisters - unless you did, and then you can probably relate. Then there is "Operation - Monopoly", and even I, a big fan of the game Monopoly, found myself laughing my ass off at this game and saying, "so true, Dane, so true".

Including a DVD with Comedy Central's "Comedy Central Presents Dane Cook" footage (both edited and unedited), a swell as other premium video clips for you to enjoy, Harmful If Swallowed is shaping up to be one of the year's best comedy records. Only to be overshadowed by Dave Chappelle, if he were to release a comedy record this year. I'll give it an A+.