Brides Of Destruction
Here Come The Brides (Sanctuary Records)
By: Vinnie Apicella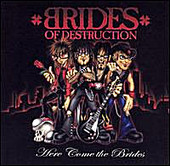 The heart of Rock n' Roll has an irregular beat. With this recent influx of water/oil mixture of styles housed on so-called Rock radio, there's little left to latch onto for the true Rock fan. How many can still admit to even listening to the radio? So here come "The Brides" armed with bullets and fresh blood -- tainted though it may be, we'll not digress into the members' past lives -- that's been gone so long since the advent of lyrical seriousness and lack of star quality.

B.O.D. has designs on reintroducing the dangerous elements to Rock n' Roll that initially rose to the surface in the '80s when bands like the Crue were Motley and names like Axl and Slash and Hollywood and Hell lived hand in hand. The band features Nikki Sixx and Traci Guns, joined by fellow scenesters Scot Coogan, Bad 4 Good -- and bad again, and London LeGrand, he of the previously low profile, fits well on vox -- good voice, decent range, clever name, recalls singers like David Glen Eisley and James Christian, both of whom you would know if you knew Motley and the rest of the Ratt pack, but if not, LeGrand's got a deeper tone than yer Izzy's and Jizzy's of the day; or more Corabi then Neil on the ol' Crue scale. B.O.D. recently forged a formidable foursome with the funky name that's far and away fiercer than that which they'd been afforded fronting their more recognizable fellowships. While it can be argued that L.A. Guns and Motley Crue each created some of their best work when their original vocalists returned to the fold, they remained socially isolated in a frigid listening environment.

But timing is everything and while the one time supergroups swap status to become struggling side bars for the moment, "Here Come The Brides" barbaric debut, the first of a three album deal with Sanctuary, merges strong song crafting and a just escaped freshness that stands well in an arms folded, always in attack mode harder edged clime of today. Featuring nine tracks, the group combines ill-mannered likeness of aggression with beefy riffs, raspy screams and the big chorus that gave rise to one time gutter cats of the glam scene. "Shut The F**k Up" stands out as the strongest cut of the bunch with a very ol' school Punk'd up dynamic fed frequently by Guns' fast-riffing; ditto for "I Don't Care," a close second, and second in sequence, which rides a familiar "Cocked n' Loaded" style chord progression reminiscent of the 'Guns in their prime. "I Got A Gun" begins drearily before pulling the trigger and seconds later, its splatter day at St. Mary's. It doesn't take long for "Here Come The Brides" music to make its impact felt. Most of the nine tunes are of an extreme measure, both in attitude and amplification; the bark and bite the bandmates sought and found with the consummation of this unforced union. While Guns' riffability's never in doubt, his was a free expression that found limited liability in the ranks of an L.A. Guns band struggling for identity and eventual survival.

B.O.D.'s tunes are darker, creepier, dirtier, chunkier and punkier than many of their trash and glam school brethren and day old diesel mechanics making the scene; and also quite soulful and pretty in places. As a tune like "Brace Yourself" would indicate in its troubling yet evocative delivery or the caustic but catchy "Life," they can also do pure teen drama with a Pop twist and courtesy hook befitting of many an Emo-product currently popularizing the WB's prime time lineup in spite of their darker wanderings. The Brides Of Destruction are a broad focused bunch of black panted bad guys with bad looks and semi-big hair going back to their untreated roots to redden the rose and return a little of the raunch and randomness to the red eye of Rock n' Roll-- look out!