Forge
Bring on the Apocalypse (Static Records)
By: Jeb Branin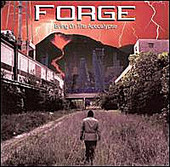 It took me forever to write this review for one simple reason - I didn't listen to the CD. I so despised FORGE's previous CD Trials that I figured it would probably be better for everyone concerned if I didn't review (or even listen to) Bring on the Apocalypse.

So there the CD sat.

One day, quite by accident, the CD ended up in my computer and WHAM! I found myself knocked out of my chair, flat on my ass. Gone was the nu-metal band in search of an identity that released Trials and in its place is a band that lays down pure, hard-hitting metal.

First and foremost, Bring on the Apocalypse features sharp, grating guitars that drive straight-forward songs highlighted by plenty of kick-in-the-teeth aggression. Clean vocals, driving rhythms, and sci-fi post-apocalyptic lyrics are going to bring to mind many of the late 80s power metal bands on Noise (like VENDETTA, WATCHTOWER, SCANNER, MANIA or even RAGE) but at the same time their quality song writing and complex melodies are reminiscent of the too oft forgotten LAST CRACK. I could listen to this CD all day - in fact, I just might.