Skintilla
Shedding Skin (Self-released)
By: Vinnie Apicella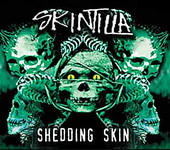 Already having amassed a strong following down under, the Aussie outfit's out to stamp their boot print on stateside listeners with an impressive six-track EP that's a rebirthing of sorts for the seven year old band with prior membership issues and sound conflicts. Australian Metal bands succeeding in the U.S. have been a rare occurrence. There have been a handful of good ones -- Mortician, Pegazus -- but not a lot of lasting ability. Following two previously released titles, "Left For Dead" and "Kranker," "Shedding Skin," like the title indicates, let's forth a lyrical let off that borrows from silence and the street scene while peppering the listener with a groove heavy Thrash barrage in the same vein as the Bay Area greats plus the necessary down-tuned density to wade with the Nu-school populous.

Think of the combined reaction of mixing Nevermore with Sick Of It All, Machine Head and Anthrax and let your mind wander from there... still in all, there's a bit of Priest's "Jugulator" style with every playback. The tunes are mid-paced and sharp without starry-eyed instrumental wanderings; a full band effort in every sense, and fronted by a pumped guy named "Pretty" with a pissed look who belts 'em out with a sense of purpose that sounds Ripper-like on the low end, Riot's Mike DeMeo on another, and/or any of a number of your classic NWOBHM favorites between the two. Pounding riffs, twin-axe solos and harmonies bring the intensity a level up on the listenability factor, lending character to traditionally-modeled tracks like "Trust" and "This Rage" before bowing out with a gripping ballad of near-epic proportions if not for its briefness. Skintilla's "Shedding Skin" is a solid release that's already skinned more than its share of hides in the outback region and it shouldn't be long before they land that coveted opening slot for a late great Metal heavyweight or at least second stage second to last status at an Ozz-fest style gathering.