Leatherface
Dog Disco (Dog Disco)
By: Vinnie Apicella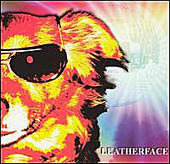 A veteran band of eight albums, sixteen years and countless followers from Punk Rock to Prog-core, Leatherface defy expectation as well as generalization, continuing a theirs-only trend they helped inspire at the end of '80s. Inspecting the lyrics to "Dog Disco," one finds quite a lot of half empty heartbreak and resolution amidst guitarist/singer Frankie Stubbs' subtlety of delivery that's the unlikeliest coarseness of croon to become equal ends P-Furs and Peter Gabriel's "In Your Eyes" times ten until the tears well.

While lyrical breakdown breaks ground revealing the lost soul's battle to revive a wrong turn life of broken dreams with redemption -- "Hoodlum," "Diddly Squat," "Raga," and truthfully most of the twelve, one concedes the temptation that into one's genius, a little insanity must fall. Primary writer Stubbs sheds light on the dark with a remarkably agile thought pattern and vocal performance that's smoky yet smooth, able to leap languid chord progressions and picked scales in a single breath-- or two or three. That is until we arrive at the unlikely pairing near the end, "Plastic Surgery," a demo-quality ballad about rediscovering and discrediting, and its frenetic follow up "Rabbit Pie Alibi" where for the first time does Leatherface lunge out of the depths and into the laps of the listener, suddenly startled at the rising surge and raised octave, overtaking an otherwise slow to mid-tempo construct.

"Dog Disco" is among Leatherface's most intricate and intense sounding albums where introspection and acoustics are concerned, sans the decibel level crush and commercialized rallying cries of today's popular acts. They are a unique blend of Indie-bred underground, that's still crudely Punk Rock and gothically dramatic to the point they dismiss and further distance themselves from the usual culprits of mass produced preacher and pretty boy types, opting instead for a minor key inflection that's melodious, artfully dissonant and dynamic.