The Fags
The Fags EP (Idol Records)
By: Alex Steininger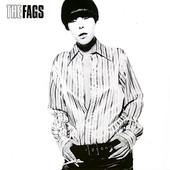 Former Sponge drummer Jimmy Paluzzi, along with Tim Patalan and John Speck, come together to form The Fags. A band who's self-titled, debut EP recalls the glory days of modern rock radio, the mid-90s when bands like Sponge flourished, Nirvana ruled the airwaves, and modern rock bands still sounded good, could get signed to a radio, and had a 'shot' at the big time.

Too bad for The Fags that these days are long gone and the record lacks the sheen, the power production, and the blandness to find them on the radio. However, good for the listener, like myself, who still plays their mid-90s alt-rock loud and proud. The way they took power-pop, punk, noise, and arena rock and blended it into a hooky, hard-hitting, sing-along blend still makes me smile, and The Fags do it so well.

Here is a record that will knock you on your ass, has the crunchy guitars and the momentous hooks to thrill you, retains the pop sensibilities that will make you smile, all while retaining its credibility and delivering a solid sound. I'll give this a B+.