Gary "Pig" Gold Presents...
The Mad Kingdom of Robin Stanley (Robin Stanley's website)
By: Gary "Pig" Gold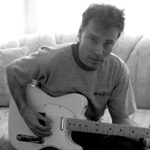 During the very midst of that most-summery Summer of 1983, after several years spent power-poppin' 'round Southern California with my latest bunch of musical Loved Ones, I somehow found myself night-managing instead a brand new 7-Eleven in Vancouver, British Columbia --in order that I could save up enough to buy a PortaStudio? and become the Great Wide North's one and only Lindsey Buckingham, that is.

But as with even the best laid of schemes, I merrily became, for a year at least, Peter Tork instead.

How, you might very well ask?

Well, it all began one late hot August night, during some precious time off between serving Slurpees to a certain Loverboy's girlfriend and readying the coffee machine for the four-thirty-AM cab driver rush. Twas then and right there that I spotted a fateful little ad in the local used-car weekly. "Band Forming," I believe the headline read. "Wanted: Bass guitarist. Vocal ability a plus. Must have own transportation and equipment." "Groovy!" as I believe the saying even then went.

Upon dialing, the voice on the other end of the line instantly seemed so pleasant that I simply had to confess I not only had no means whatsoever of self-transportation -- still don't either, if truth be told -- but also that my guitars were all still being held for ransom by Canadian Customs, somewhere between Seattle and Victoria where my trunk and I had been heaved off the trans-border Greyhound the previous month. "That's okay," I believe the voice then replied. "Why don't you come by for an audition tomorrow anyways?"

Ladies and gentlemen, need I report this was only the first of so many indications over the many years to follow that Robin Stanley was one heckuva fine, understanding, and totally accommodating guy indeed.

So you bet, I somehow passed that audition, Robin even helped me track down an amazing faux-Beatle Hofner bass in some Gastown secondhand shoppe mere days later, and before you could call your Auntie Grizelda I'd become a fully-fledged all-singing, all-playing member of that harbinger of the West Coast proto-pop scene, the Fun With Numbers band. Why, I even got to tackle Dave Davies' starring role on "Party Line" (not to mention that tricky Phil Everly vocal on "When Will I Be Loved"), as Robin & Co. quickly became the toast of what in retrospect can be heard as the extra-melodically-inclined beginnings of those post-punk / pre-grunge movements we now so highly regard and respect.

Unfortunately though, before I could ever become wholly settled within my latest and greatest musical family, Duty (in the guise of a Toronto-based Beach Boy tribute act so subtly named Endless Summer) called, and I had to pack up my pretend Hofner before ever getting to appear on F w/ N's one and only official release (1984's wholly summery "Sunny Holiday" single: think Mr. Hobbs Takes a Holiday in Waikiki). However, throughout the succeeding two decades of my various Endless touring, Dave Rave-ing, Ghost Rocketeering and To M'Lou Music-making I managed to remain in good, constant touch with my good friend Robin, whole-heartedly cheering from afar as each new cassette came in the mail filled with the man's latest creations and deploring him, with ear-numbing regularity by way of each and every response, "Hey! When are you gonna make an album already??!"

Well, he just did.

So it is especially ear-warming for me to finally be able to invite you all into that deep, sonic jungle which is the one and only Robin Stanley's mad, magical musical kingdom. Yes, a wondrous land where heroes carry hearts which may actually sometimes hurt, villains fuss and stew in their respective states of confusion, yet where bluebirds fly o'er every rainbow and each wayward angel always finds its way back home. Eventually. Precisely the kind of octave-bounding optimism which may no longer fuel the virtual Top Forties of this cranky old world, I'll have to admit, but which in the hands of a lovingly mad curator such as Robin can unapologetically fill us all with endless seasons of sunny listening to come.

"They come and they go," to paraphrase one of the first and greatest Stanleysongs I ever met, "all these faces from my life." But in these many years since first dialing his number, I can attest before every one of you out there that a man like Robin, not to mention a true blue muse such as his, really do not bop down the pike nearly often enough anymore.

So as I pause now to restring my trusty olde Gastown Hofner (it still works just great, y'know!) may I direct everyone straight on over to Robin-Stanley.com not to mention to the virtual survey below, for even further information--

Eight Questions for Robin Stanley:

1. "Munsters" or "Addams Family": Which one's for you, and why?

"Munsters," because the theme song was way too cool.

2. Who in the world, living or dead, would you most like to play a game of Twister with?

Marilyn Monroe. Do you have to ask why?

3. How many rare and/or unreleased recordings by the Brothers Gibb do you own?

The Bee Gees albums I love the most are the ones that are more obscure, like "Life in a Tin Can" and "Mr. Natural." "Sea of Smiling Faces" off "To Whom It May Concern" always gets to me. Let's not forget about Robin Gibb's solo album "Robin's Reign," either.

4. If you had been working the front gate at the Dakota that night back in 1980 when Mark David Chapman showed up, pistol in hand, to avenge the chief Beatle for his "bigger than Jesus" wisecrack, what would you have done?

I would have given Mr. Chapman a swift kick in the nuts, and when he dropped the gun I would have disarmed him and held him for the police. Afterward, John and Yoko would have invited me inside for a cuppa tea and later John and I would have sat down at the piano and written "Imagine" together.

5. "Ginger" or "Mary-Ann": Which one's for you, and for how long?

Well, Mary-Ann would have made a great wife. And Ginger would have made a wonderful girlfriend. So, do I really have to choose?

6. What single song -- living or dead -- do you most wish you'd written? And why didn't you?

"Smile." Unfortunately, I never got a chance to write a song with Charlie Chaplin (or Lennon, for that matter!)

7. Whose vintage six-string would you most like to be reincarnated as?

Sheryl Crow's. That girl is HOT. Can you imagine having her run her hands up and down your neck?

8. In 2000 words or less: your hopes, aspirations, and goals -- musical and otherwise -- for your life and your country?

I'd like my rise to the top of the Billboard music charts to coincide with world peace. Everybody's so busy grooving to my album "Mad Kingdom," which is played endlessly on the radio, in bars and clubs, shopping malls and elevators etc that they don't have time to fight with each other. I'd also like to put Vancouver, a city previously known for bringing the world the likes of Bryan Adams, Loverboy and Michael Buble, on the musical map as a serious music town, like Boston or Seattle. I'd also like to see British Columbia's premier Gordon Campbell accidentally run over by a speeding ambulance.