Brazil
A Hostage And The Meaning Of Life (Fearless Records)
By: Vinnie Apicella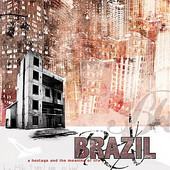 A Hostage And The Meaning Of Life is a supreme being standing tall amidst a sea of sameness in post-hardcore and indie rock circles. The Indianan sextet pulls the best from '70s prog rock, '80s modern, and today's burgeoning emo scene and seamlessly creates a stunning debut that's far enough advanced to consider unique, yet polished enough to absorb easily.

Combining lyrical sensitivity underpinned by intricate dual guitar scaling, atmospheric melodies, catchy hooks and percussive dynamism, featuring piano, synthesizers, strings and modern production, tastefully blended by indie-approved Alex Newport, each song is an art form unto itself, effectively transporting the listener beyond the borders of expectation while marrying a wealth of usually incompatible instrumentation. A Hostage And The Meaning Of Life draws inspiration from the same well as many of today's heartbroken saviors, but set apart in the delivery that's an emotional and experimental wandering, similar to a current band like Coheed & Cambria, or a "whatever happened to--" group like Cyclefly, or what At The Drive In once was, as well as the atmospheric richness of Armor For Sleep.

Between the covers, a song like "A Hostage," the first to emerge, possesses the technical dynamism of Rush's "2112" temperament, later yields to the astral passion of the angelic "Escape," or the prog-tinged psychedelics of a six minute epic like "Metropol," where subtle traces of the sax can be faintly heard, they're everywhere and all over, seemingly without ever touching the ground.

If one were to build on the acclaim deservedly afforded another newcomer like Funeral For A Friend for its forward thinking ability to run traditional metal scales with melodic sensitivity and scattered arrangements, Brazil goes a step higher. By enlisting the age of the avant garde, recalling new wave and synth-pop imagery where goth and modernity seized hold of a once dominant rock position and ascended it to new heights. Brazil has and displays that ability, to rewrite the guidelines of not only rock, but all its accepted subdivisions, declines the invitation to join in and goes it alone. It's like the output of all those half-awake, 4am revelations written and recorded and the evasive, usually unconscionable result emerges here. A Hostage And The Meaning Of Life is an amazing debut destined to be a true classic, only without the usual twenty year wait.