Puffy
Spike (Epic Records Japan)
By: Gary "Pig" Gold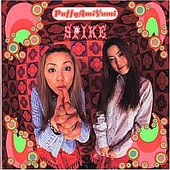 I have a good friend in British Columbia who, as often as he can, sends the latest release from Japan's reigning pop duo Ami and Yumi, better known (everywhere but in the USA, it seems) as Puffy. Good thing he does too, coz these Sony imports can be damn expensive...

And so on this, their coolest long-player, the delightful duo bravely continue -- many thanks to the knob-twiddling genius of Andy Sturmer -- their two-girl magical history tour across the AM radio dial circa "Won't Get Fooled Again" through "Dancing Queen."

Well, it's only pop'n'roll, but at least I like it!

Being as blissfully unaware of Puffy's possible teen-pop lack of cred in their homeland you see, I just enjoy this, and them, for what it and they really only are: Some of the greatest, funnest music these ears have EVER laid eyes upon!