Steve Ketchen and the Kensington Hillbillys
Self-Titled (Self-Released)
By: Nick Mlatchkov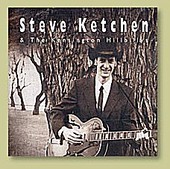 You wouldn't imagine the Canadian music industry would be so indifferent to talents such as Steve Ketchen. He possesses the gift of one Johnny Cash, yet this CD, released in 2001, is burned and distributed on a CD-R without any cover art so the costs are minimal.

Nevertheless, it's recorded and mixed with a lot of love. All of the tunes are country gems. It overshadows any recent Blue Rodeo albums whose member James Gray adds on brilliant accordion and piano moments to this recording.

"When She Was Mine" is a love song with damn refined lyrics, "I'm laughing with the sinners, should be crying with the saints".

"The Way It Is" tells the story of a prisoner who has escaped the jail only to find out the harshness of reality.

The short "Emelina" is about a loving family that lived before the WW II.

"The Ballad of the Boyd Gang" comes off as if directly from the Man in Black's mouth. "You've Been Mistaken" features the wailing pedal steel of Burke Carroll who's more heartbreaking than a Nashville sessioneer.

"Tall Tall Pines" drives us right to the mountains of Kentucky with idistinguishable bluegrass magnitude. "The Dispossessed" is a stunning ballad flying on the wings of a touching dobro. The closer "(In the Valley of) 10 000 Smokes" is another pearl obsessed with the spirit of Johnny Cash where Steve demonstrates astonishing guitar technique. As the album was issued before Cash's death one might think Ketchen's recharged with a similar strength of mind straight from the horse's mouth...