Dolorean
Violence In the Snow Fields (Yep Roc)
By: Alex Steininger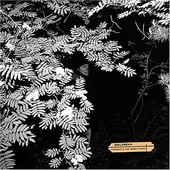 On their sophomore full-length, Violence in the Snowy Fields, Portland, Oregon's Dolorean, fronted by Al James, deliver a fine collection of weathered, worn, lived-through-this songs that detail the highs and lows of life. All pulled together with James' ability to mix reserved, barely-holding-on vocals with sparkling, pretty melodies.

The album opens with a Southern rock-meets-folk-pop number, "The Search", and then travels to the slumbering "Put You To Sleep", its meditative strings and weeping acoustic guitar putting you at ease while James' voice becomes a lullaby for the weary hearted individual in us all.

From there the album explores more dark, spacious pop music with "Holding On", a song that proclaims, "I'm holding on, I know its wrong-- I'm holding on to anything". And "To Destruction", a song as lyrically compelling as "Holding On", and just as desolate, but with a more upbeat, bouncy rhythm, wrapped around a country-influence (courtesy of the pedal steel).

The title track takes the band's love of Southern rock further, while still maintaining the trademark Dolorean brooding pop/folk sensibilities. However, it is the fragile, subtle "My Grey Life (Second Chances)" that truly allows James to shine, as he did on the first album, Not Exotic, delivering a string-laden, tender, emotionally ripe masterpiece of quiet proportions.

Violence in the Snowy Fields finds Dolorean truly growing into a band and not just a solo outing for James. Many that loved the singer-songwriter qualities of Not Exotic will still find much of that in here, as it is still James' vision, but with more tools and musicians at his disposal -- and a more than capable band -- to help him flesh out the vision and take it to the next level. And raise the bar and jump to the next level Dolorean does here. I'll give it an A.