Kevin Tihista's Red Terror
Wake Up Captain (Parasol Records)
By: Alex Steininger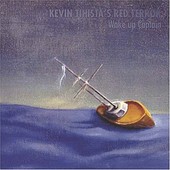 On his third full-length, Kevin Tihista's Red Terror deliver one of 2004's most memorable pop records, Wake Up Captain, a record that blends lo-fi, hushed intimacy with glorious, lush production. Throughout the album's seventeen tracks Tihista, and friends Epicycle (Ellis & Tom Clark), as well as other guest musicians, brings to life these sweet, lyrically biting pop nuggets.

One of the album standouts is "Good Wings", a song that opens with the lines, "I was not convinced of the fact that I was not meant to fly, so I climbed up on the roof and I decided I would give it a try. When I woke up in the hospital the doctor said I should have been dead" and offering this pearl of wisdom: "Flying is not the problem, you know the landing is", Tihista's wit, sarcasm, and lyrical insight all help propel his already musically pleasant songs up several notches.

Backed by Tihista's reserved, relaxed vocals, and fleshed out by a rush of warm backing vocals, "Good Wings" delivers effortless hooks, moving along at a mid-tempo pace. Making the song mellow enough to sit down and absorb, but with enough kick to make you tap your feet and sing along, getting a bit of a rush off of it.

"OH", "Damn the Weather", and "Real Life" perfectly demonstrate Tihista's ability to write lush songs that still manage to pay homage to lo-fi. Propelled by dreamy, swimming melodies with a smart bite all executed with no pretension or arrogance, making them, even when Tihista has tracks and tracks of instruments going on, sound as if they're right next to, you being performed live in your bedroom.

Then there is the runaway, should-be-hit "Family Curse", a song that turns Tihista's world upside down, from the sophisticated, late-night pop to bouncy, sing-along indie-rock. Though Tihista's dominate pop side still keeps the verses in check, when the chorus hits the rock comes alive.

Though his other two have been underrated masterpieces too, Wake Up Captain proves the third time is the charm as Tihista proves to be one of the best indie-pop songwriters out there. Too bad he's not getting the respect and commercial sales he deserves. I'll give this an A+.