Telephone
EP (Telephone)
By: Alex Steininger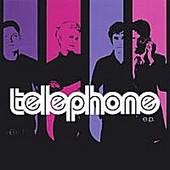 Former Dandy Warhols drummer, Eric Hedford (also known as DJ Aquaman), steps up to the mic with his new band, Telephone, which also features former Crackerbash bassist/Satan's Pilgrims' guitarist Scott Fox, and drummer Paulie Pulvirenti (who has played with Elliott Smith, No. 2, and Jr. High, among others).

Their debut, self-titled EP conjures up moments of the Brit-pop that made Dandy Warhols a sensation in Europe but, beyond that, Hedford steps away from his old band and paves his own path, delivering glowing, crashing new-wave that is both memorable and palatable, something that is hard to come by these days.

Album opener "Sugar Coated" is the stand-out single on the EP, an infectious, ultra-catchy take on new-wave, Hedford's keyboard delivering a spooky synth sound, while Fox's guitar, and the bass, help give the song a chunky, chugging rock demeanor. All while Pulvirenti keeps things steady and solid. Then the chorus hits and the backing vocals make you want to swoon over the song, while Hedford's ability to reel you in with a solid hook comes flying at you.

"Occupy" is another new-wave delight, the chorus swimming in your head, while the verses build up to a blast of pop delight. "Rock Club" isn't as jumpy or pop-oriented, preferring to simmer rather than shake. But it is here you see just how powerful the band can be. Still melodic and rocking, the band drops some of the sugar and sweetness for more rock and guitar noise, complimenting Hedford's keyboard, and the result is as stunning as their more bouncy stuff.

Ending with "Ahead", the band showcases their Brit-pop leanings, dropping the new wave and creating an ethereal, slow-moving, and almost meditative number that burns slowly, helping you (and presumably the band) wind down from an otherwise sweaty performance.

With strong songs, spot on vocals, and tight musicianship, the sky is the limit for Telephone. This EP's biggest drawback is that it is only twenty-two minutes, leaving you wanting more of both sides of the band. But, other than that, they hit it on the head here and do pop music a kind justice. I'll give it an A.