Rick Springfield
Shock Denial Anger Acceptance (self-released)
By: Jeb Branin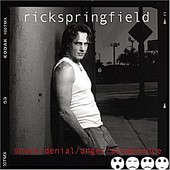 Inevitably when reviewing the latest release by Rick Springfield I feel obligated to say "Yes, this is the same Rick Springfield who topped the charts with bubblegum hits like 'Jesse's Girl' and 'I've Done Everything for You'. Some may interpret that statement as some sort of apology. It's not. Rick's mastery of pop music was almost second to none in the early 80s. There's certainly nothing wrong with that.

Some, however, still sneer. It's their loss because his mastery of pop literally pales in comparison to his mastery of pure rock n' roll. Albums like 1988's Rock of Life, 1997's Sahara Snow (where he teamed up with Tim Pierce and Bob Marlette) and most importantly, 1999's Karma are absolute rock masterpieces. Sure they are catchy, but they also have an edge. Not a pre-fab edge manufactured in a boardroom in some lame attempt by a record company to give an aging teen heart throb "street cred", but a REAL edge. An edge that reflects a real artist whose mastered his medium and is using it for catharsis. Rick is simply one of the best songwriters in rock and roll. Period. If you doubt me then I DARE you to buy Shock Denial Anger Acceptance.

This album is perfection in plastic. It is much edgier than Karma but no less well done. The title essentially captures the theme of the album.

Springfield has always been one to allow his audience a peek into his psyche through his music, but on Shock Denial Anger Acceptance he throws the door to his soul wide open, not only allow his listeners a shared catharsis, but likely in an attempt to allow his troubles, pains, and passions full egress out. Therapeutic, no doubt, but it makes for such damn fine rock 'n roll who is going to fault him? Not me. It's not often that you get an album that you dance to and also smash glass to.

A walk through of individual tracks is a waste of time. They are all good. They all stand alone yet equally contribute to the opus in its entirety. Go. Buy. Now.