INTERVIEW: Strapping Young Lad
An extreme metal all-star squad (Strapping Young Lad)
By: Mike SOS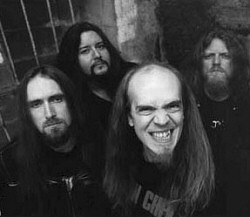 Devin Townsend is a man of many talents, which he aptly displays on both sides of the recording booth on ALIEN, the latest 11-track offering from one of his many metallic endeavors, Strapping Young Lad. Rounded out by Gene Hoglan (Dark Angel) on drums, Jed Simon (Frontline Assembly) on guitar and Byron Stroud (Fear Factory) on bass, this lineup reads and sounds like an extreme metal all-star squad, as tracks like the blistering "Shitstorm" and the driving "Shine" are only a couple of examples of what this monstrous entity can muster up. When catching up with this busy visionary via email, the new album, his many other side projects, and his take on the heavy music scene and the tragic loss of Dimebag Darrell were just a few of the topics of discussion with a man truly pushing the boundaries of metal music to their furthest extremes.

MIKE SOS: What are some of the differences and similarities between the new album and previous SYL records?
DEVIN: Gene and I really had a chance to get into each other's brains in terms of writing. Jed and Byron were out of town, but contributed things to the process for Gene and I to assemble. On this record, I found my riffs and Gene's rhythms were really in synch. The new record has some wacky lyrics and everything, but hey...I'm the singer and we needed words, so there it is. This record starts in a hostile place, but ends resolved and kind of in a Zen place. Structure wise...this Alien album is almost a mixture of the first three records.

MIKE SOS: Who is playing with you in SYL on this album and tour? Will it be the same band for all of the legs of the tour?
DEVIN: Byron, Jed, Gene, me, and the keyboard player, who we have now named Willy. This is definitely the band that will be doing all the touring this year. I think there is something to be said for our consistency.

MIKE SOS: What's the main difference between a SYL project and a Devin Townsend project?
DEVIN: SYL makes my skin crawl, and DTB makes my brain mellow. I think they represent my opposites...therefore it's good to keep them as polar as possible, despite there are some parts on ALIEN that may fit into the solo vibe in terms of being acoustic or what have you. The SYL vibe is specific, and I know the difference while writing immediately. DTB is like a warm family vibe. I fuck SYL and married DTB.

MIKE SOS: Describe the creative process of making the new album...how did the songs get written, arranged, produced, lyrics, who does what in the band, etc.
DEVIN: This record was written partially on tour, and partially at rehearsal in Gene's basement. Byron and Jed were gone, so what would happen would be Gene and I jamming, and then when we found a bit that we both liked, we would record it, and the next day elaborate on it. In the studio, each song has four tracks of guitar...two of me and two of Jed. The entire process was done in the digital realm and we tried to really capitalize on what that technology could do for extreme music. I sang the whole record as well as did the keys and samples at my home studio and we mixed and mastered within Pro Tools.

MIKE SOS: What's the toughest thing about producing your own music?
DEVIN: Being objective enough to know when enough is enough (something I am not so good at). I have a vision that I need to see actualized, and producing it myself seems to be the easiest way to get the music to that point.

MIKE SOS: What was the easiest song to record? The toughest? The one that came out the best (in your opinion)?
DEVIN: The easiest song to record was probably "Zen", while the toughest was obviously "Skeksis". I am pretty happy with the whole record, but if pushed, I would have to say that my favorite song is probably "Skeksis". Based on the fact that taming that song was a real headfuck, .the vocal harmonies throughout the song are really tight, and it boggled my head recording them.

MIKE SOS: What's the best and worst part about being part of this band?
DEVIN: The worst part about being in SYL is probably the fact that I can't just do it and move on. I have to tour and promote it, as well as talk about it, which is hard after it's finished. I just want to move on to other projects after it's released, but the reality is you have an obligation to represent it, which I resent due to the time it monopolizes.

MIKE SOS: What kind of equipment do you use? Is there anything essential to the band's sound that you couldn't live without?
DEVIN: ESP 7 string guitars with EMG 81 pickups. I tune it GCGCGCE. I use 5150 Peavey heads and Mesa Boogie dual rectifier heads. I use Pro Tools, Ableton Live4, Cubase and a variety of crazy echoes. I use Boomer strings, 10-60...and yellow "pizza slice" Dunlop picks.

MIKE SOS: How would you describe Strapping Young Lad to someone who never heard the band before?
DEVIN: Obnoxious music with super fast double kick, lots of random explosions and a bald guy screaming his balls off over top. Stress music made for catharsis.

MIKE SOS: What are the plans for the band for 2005?
DEVIN: We intend on touring a bit, starting in America in April, then European festivals and other touring obligations overseas. We are doing a video for the track "Love?" at the end of February and between all this, I am working on several other non-SYL related projects.

MIKE SOS: What do you like to do during your down time at home? When on the road?
DEVIN: I constantly work, be it through SYL, the Devin Townsend Band, production for other bands, or various other side project endeavors, so I am constantly busy. I like to sleep and eat in my spare time.

MIKE SOS: What bands are you currently into? Any music that you like that fans would be surprised with?
DEVIN: I like a lot of things. For metal, I like Meshuggah and Opeth. I love Ween, and lots of my own stuff. I try to buy as many new metal releases as I can. I like to stay up to date with what's going on. The new Mnemic and Soilwork are pretty cool, too.

MIKE SOS: How do you feel about the current state of heavy music?
DEVIN: I think it's good. There are lots of bands pushing lots of envelopes, and it feels like metal, along with hip-hop, are the only two real breathing living musical forms right now.

MIKE SOS: How much has Dimebag Darrell's tragic death affected your outlook on life in the music industry? the heavy music scene?
DEVIN: It sucks, as it makes you double guess stuff. I will still play shows and all, but it has affected my desire to do so. The heavy music scene is pretty intense to begin with, so my view on the industry as a whole hasn't really changed.

MIKE SOS: What advice would you give to aspiring musicians?
DEVIN: Even though I've been doing this professionally for 12 years, I really didn't start to get any respect for eight of them. To young musicians, everything you choose to do should be at the peak of your ability, and DON'T STOP, perseverance is the key.

MIKE SOS: Who are some of your musical influences?
DEVIN: I would say Judas Priest, Wasp, Frank Zappa, Broadway musicals, Abba, New Age music, Zoviet France, Kings X, Morbid Angel, Barkmarket, Grotus, Janes Addiction, Fear Factory, Meshuggah. I am influenced by anything that moves me.

MIKE SOS: What bands would you like to tour with that you haven't yet?
DEVIN: Metallica, Slayer, or Ozzy. Let's go for the higher tier!

MIKE SOS: What would you like SYL to accomplish in 2005?
DEVIN: I just wanna make crazy vibrations with cool guys in a metal band, and I hope that SYL can maintain that this year! See ya on tour. Rock on!