INTERVIEW: Grandaddy
Grandaddy's Jason Lytle talks about Grandaddy's last record, his mood, and why it is hard to make money as an independent musician (V2 Records)
By: Alex Steininger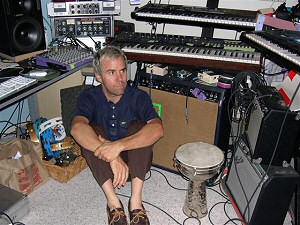 When a critically-acclaimed, well-respected musician who seemingly has achieved "the dream", at least to some extent, tells you he has bills to pay and that he isn't sure how much longer he can slug it out in the independent touring circuit, one has to take a second look.

With respectable record sales, sold-out shows coast-to-coast, and nary a reviewer having anything negative to say about Grandaddy, Jason Lytle, the band's mastermind, is contemplating hanging it up. At least, he feels he can't tour anymore, and with touring being the main way for a band to thrive and survive, Lytle is ready to walk away from Grandaddy and try something new in his life.

ME: For me, looking in from the outside, it looks like the last few years have brought you guys a lot of success and that things are definitely on the upswing. I mean, two years ago you came to Portland and played to a sold-out crowd at the Aladdin Theater [capacity 600], and then you came back a year later and played a sold-out show at the Crystal Ballroom [capacity 1200].

JASON LYTLE: It's weird for us. We're wondering what's next. We're not one of those bands that really broke through, but we got to a certain level. We're just a bunch of guys trying to make it in a band, but we have bills to pay, and it's not the most secure career move. So we're wondering how long we can do it.

ME: You've been at it a long time now and things, at least to me, seem to really be taking off.

JASON LYTLE: Being in a band, assessing it, it's not that stable of an existence. We don't know if it's worth doing this anymore. I think the DVD will explain a lot of this.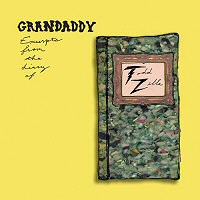 This is an excerpt from an interview I did with Lytle on August 19, 2005, discussing the band's forthcoming EP, Excerpts from the Diary of Todd Zilla (V2 Records), which will be released September 27, 2005.
Excerpts from the Dairy of Todd Zilla serves two purposes: it kept Lytle busy in between working on the band's next full-length, and it gave fans something to listen to in the interim. But, the record, as much as Lytle tried for it to be, isn't something just thrown together. A lot of it has to do with where Lytle is at right now as a songwriter, musician, and person.
"I have a substance abuse problem when I'm not busy," admits Lytle, telling me how The Excerpts from the Diary of Todd Zilla came about. "There's not really good ways to occupy your time when you're not working. So, in an attempt to keep me busy when I wasn't working, I thought it would be a good idea to occupy my time working on a batch of songs that I knew wouldn't make it on an album."
He began working in his home studio just to keep busy, recording songs in "Studio B" (Sumday, Grandaddy's last full-length, was recorded at Lytle's home studio, too, but recorded in "Studio A"). "Studio B" is the studio in his bedroom, whereas "Studio A" is the 24-track machine in his living room and kitchen ("Studio A" is being used for the next full-length).
With a batch of songs recorded, and the full-length still being worked on, the decision was made to release the songs as an EP. All the EP needed was a name.
Lytle remembered a license plate he had seen, a license plate that read "Todd Zilla", and the EP's name, The Excerpts from the Diary of Todd Zilla was born.
When asked about the vanity license plate, Lytle laughs. Then he tells me, "I saw a vanity plate on a big, shiny, retarded truck. It was one of those things where I was in the right mood and the humor level was there, so I wrote it down and stored it for later. I knew I'd use it somewhere."
The EP contains seven tracks, through Lytle originally had planned on recording six.
"I knew right off the bat these songs wouldn't be on an album," Lytle tells me, when asked how he decided on which songs to record in 'Studio B'. "There were other songs in the running, but I settled on six. Then 'Pull the Curtains' was added. I wrote that one last, and wrote it really quickly, just to see if I could write that type of song in a short amount of time."
"Pull The Curtains" is the single of the album, a song that could have found its way on to Sumday, starting out with just Lytle's voice and an acoustic guitar before bursting into a shining, punchy rock song with an infectious beat and a hooky melody.
However, the other songs on the album are different from "Pull The Curtains", recalling earlier Grandaddy and their synth-driven past. But, what holds everything together are the songs' lyrical theme, dissatisfaction with Lytle's hometown of Modesto, California, a place he can no longer stand.
"I was lucky, I grew up a little too far out and had to make up my own ways of having fun, like walking in the orchards with my dog. But the kids that live in between the big city and nothing, like the kids who live in Modesto, I feel bad for them. There is nothing to do except sit around and do drugs, or get someone pregnant in the bushes."
It is clear, Lytle is done with Modesto. And it is something he isn't hiding, either.
"The only thing that is keeping me here in Modesto is the fact that I'm working on my new record. The minute I finish the last note, I'm unplugging every chord, hiring a moving company, cleaning out my house, and I'm out of here."
We begin talking about the EP some more, but Lytle would rather talk about the forthcoming full-length.
"It's been kind of frustrating talking about the EP, because the full-length will blow it out of the water. The EP is the h'orderve before the main course," he proudly informs me. "I told myself I wouldn't care about this since it's not an album, I would just throw it together and not care. But I care more than I'd like to admit."
"The whole idea was to keep myself busy, give myself a good, constructive way to keep occupied while I took a break from the full-length," he continues. "I've been working on the full-length for about a year and a half now."
Lytle tells me the full-length is about 6/8ths the way done, and is in the mixing process now. "By the time I'm finished mixing it, it will have taken six different dates to get it done. It will be big," he says.
"We're usually mixing two to three songs each session," he continues. "This is different for me, but it had to be this way for this record because it's so difficult to mix it. We couldn't do it any other way."
When asked why the record is taking so long to mix, Lytle tells me it is because eighty percent of the songs are over six minutes long.
After telling me about the length of the songs on the forthcoming full-length, Lytle then says with laughter that "the next album I make, I want to write thirty 1-minute songs."
Lytle has almost everything planned out, from the songs on the record to the sequence. But, he plans to change it up right before completion.
"I've had the sequence from the first song to the last song figured out for six months. I'll change a few things, though. I'll finish it so it will surprise even me."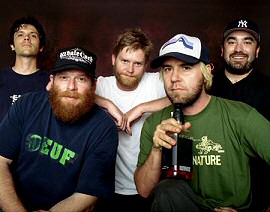 So, what is this talk about Grandaddy going on hiatus, or ending after the next album is released? Where did all of that talk come from? Lytle and I spend a good amount of our interview time, forty-five minutes, discussing these questions.
"My mindset in making the next record was I don't really know where we stand. So I thought I'd make an over-indulgent record, and I wouldn't care if people liked it or not, just a really melodic, big record so if it all ended I could go out with a bang," he says without hesitation.
In a world where the major labels are confused and struggling, trying to get a stronghold on the market they once dominated. And independent labels are using the internet and digital retailers to make an attempt to level the playing field, "experts" have proclaimed this the time for independent bands and labels to do it on their own. Lytle, however, is taking the opposite side of the fence.
"It's just really, really hard for indie musicians to make money any more," he says, when asked why he is considering ending Grandaddy.
One of the big reasons Lytle is thinking of making the next Grandaddy record the last is simple: touring.
"I'm trying to do away with the touring thing altogether. I fucking hate touring," he tells me. "Someone has to be the poster boy for not touring. I want to start a new revolution.
"To me, it's twenty times the work, and I just feel my energies could be better spent doing something else. The one way I could justify doing it, we just don't have the money to do it that way. The way I would put up with touring would be more along the lines of what Willie Nelson does. It just isn't possible for someone on our budget. It's something I always didn't like, but dealt with."
Lytle tells me the band is working on a DVD, and have been going through a lot of old footage from the history of the band to compile the DVD. He also says the DVD will explain a lot.
A lot seems to be going through Lytle's mind, and one of the big things is his move. He settled on Los Angeles.
"I was considering a few places, including Portland, but I eventually settled on L.A. because I have a lot of friends in the skateboarding industry there and I don't like overcast weather."
I ask Lytle if he does put Grandaddy to rest if he'll continue at least making records, and, if so, under the Grandaddy moniker?
"I'll always be recording music," he quickly tells me. "But, I'm not going to lie to people. Who knows what it will be released under?"
"I'm just a common guy, I'm not coming from an uppity musician standpoint. People care about the music, and I love making music, but I also have bills to pay," he also tells me. "Give me a Coke commercial and I'll make two more records."
We soon find ourselves discussing making music for commercials as a way to make a living, something Lytle is not opposed to.
"I'm really OK with advertising music," he quickly spits out. "I'm not sure if I'm a good or bad person for saying that, but I don't care. If I could write songs for ads, I would do it."
And though Lytle isn't joking, and would love to write songs for commercials, following his move to L.A. he sees himself getting a job in a studio.
"Somewhere in the last couple of years I came to the conclusion, I change moods, but I accepted this is what I do and I want to be around recording and recording studios.
"I'm a lot more at ease with people in a recording studio. That's really where I get my creative juices. I'm more of a recording guy. I also spend a lot of time outdoors. If I could somehow make an outdoor recording studio..."
He then pauses and reiterates the notion of advertising and music.
"Maybe I'll make a really catchy song for Dairy Queen. I have no idea."
Fans should not despair. Exceprts from the Diary of Todd Zilla will be released September 27, 2005 and V2 Records will be releasing the new full-length in early 2006. This should keep fans pacified until Lytle and company decide on their next move, no matter what it is.