The Aquabats!
Charge!! (Nitro Records)
By: Alex Steininger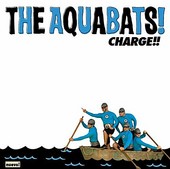 The Aquabats! are still around? I thought they broke up when ska died a bad, bloody commercial death? I guess not, seems they've been around the whole time. Which is nice, because they were always the clown-y younger brothers of chart-topping ska-punk bands. And, at times, they were much better.

Their latest, Charge!!, finds them at the top of their game, crafting humorous, fun pop songs. The ska really isn't present, but I guess for longevity you have to grow and broaden out. In place of the ska is Weezer-esque keyboard-friendly California pop, mixed with a light punk tint for energy.

Oddly enough, even without the ska, The Aquabats! still sound like The Aquabats!, which is encouraging. Heck, the best things about them in the past - the comedy and their ability to wrap laughs in bright pop blankets - are still here. So just blast it and have with these nerdy pop musicians. I'll give it a B-.