Belle and Sebastian
Push Barman To Open Old Wounds (Matador)
By: Alex Steininger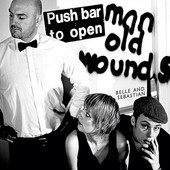 Belle and Sebastian's latest release, Push Barman To Open Old Wounds, is a 25-track collection of all the tracks from the band's seven Jeepster EPs and singles. Recorded between 1997 and 2001, the songs are anything but throwaways. Some of Belle and Sebastian's songs are here, and listening to the songs in a new format - as one album instead of seven EPs - shed new light on them, hearing them all back-to-back.

Hearing them in this collection reinforces the magnitude of Belle and Sebastian, the songwriting prowess and immense talent that is the band. Whether they're doing bubbly pop, subtle grooves, sunshine melodies, or quirky instrumentals, the uniqueness and ingenuity of the band clearly shines.

Fans of the band, including hardcore fans that already own all these EPs, must check out this album. Unlike other compilation albums of band's back catalog, this isn't a rarities or b-sides/outtakes collection, it is a collection of songs that were meant for release - and were released - and when put together the whole is truly greater than the sum of its parts. I'll give it an A.