DVD: South Park
The Complete Sixth Season (Comedy Central)
By: Alex Steininger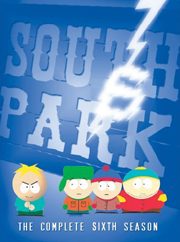 While the boys try to stop Hollywood from re-making classic movies, the town is obsessed with freeing a convicted child murder in the episode entitled "Free Hat". Then, in the episode entitled "Simpsons Already Did It", Cartman creates a "Sea City" by mixing sea horses with seaman, stating, "I got this stuff free from a man in the alley. He didn?t even charge me for it. He just made me close my eyes and suck it out of a tube" (referring to the seaman supply he got to keep his "Sea City" growing).

Ah, and then there is the classic episode "Jared Has Aides", where Subway?s infamous Jared comes to town to help the town of South Park lose wait ? proclaiming "Aides for everyone". With the city believing he lost his weight from having A.I.D.S., and Jared proclaiming he wants aides for everyone, you know hilarity is soon to follow.

Yes, season six of South Park is yet another classic season for these four teens (Kenny is dead in Season Six, with Butters and Tweak vying for the spot of "The New Kenny").

Season Six is almost akin to a "Greatest Hits" record. With the majority of the season ? "The Biggest Douche in the Universe" (an episode that mocks John Edwards, a man that believes he can talk to the dead). "Asspen" (mocking 80s teen movies), "Red Hot Catholic Love" (the town Priest goes to the Vatican to get priests to stop molesting young boys), and "Red Sleigh Down" (Cartman tries to do a good deed so he?ll get presents for Christmas). All amounting to laugh out loud hysteria.

With Matt Stone and Trey Parker?s usual witty commentary available via the DVD, and the 3-disc set offering up plenty of entertainment, South Park Season 6 is yet another notch in the belt for these purveyors of cartoon comedy ? and a nice addition to your DVD collection. I?ll give it an A.